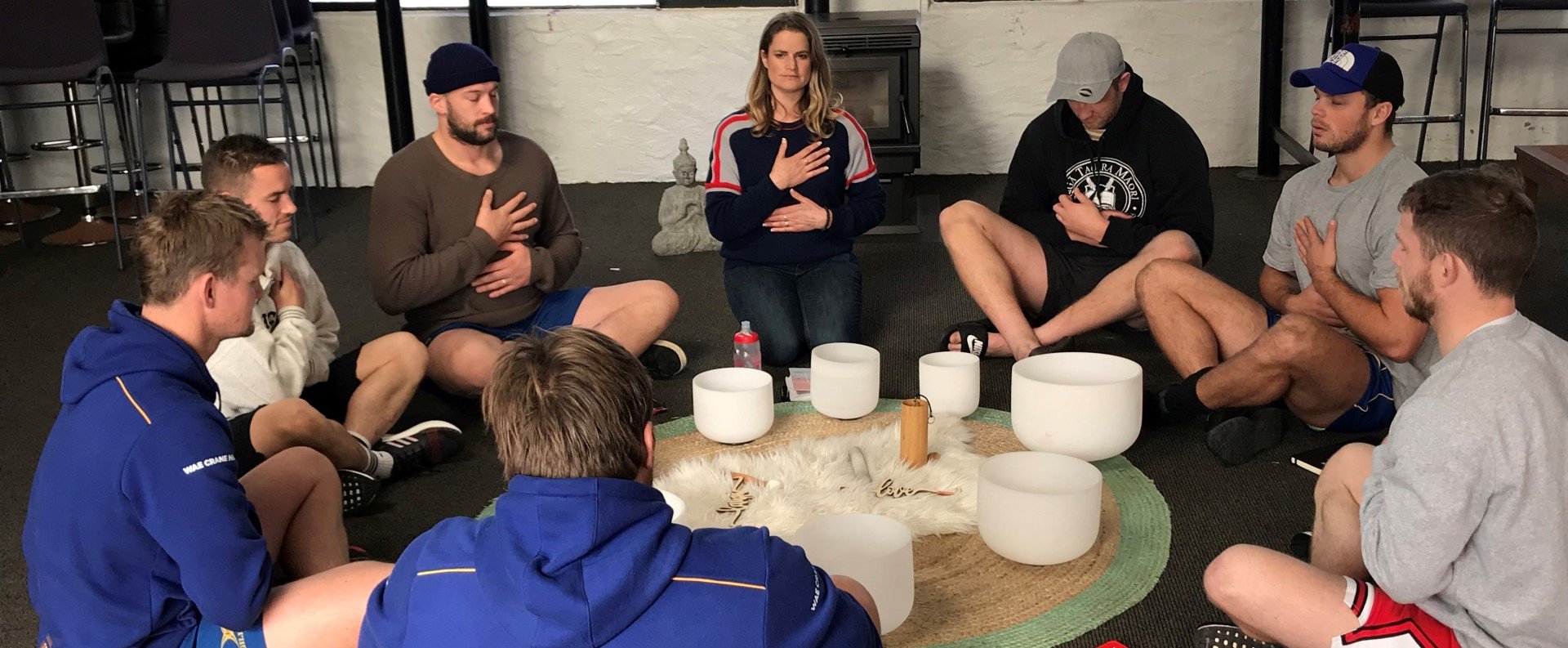 Photo: NPC players work on their mindful breathing.

Today's professional rugby player can access a broad and detailed range of progammes to support their growth and development as well-rounded, well grounded, thriving individuals.
As well as the contest on the field, players face many challenges off it. To assist with these challenges, those involved in professional rugby work in partnership (NZRPA, NZR, Super Rugby and Provincial Union's) to ensure the players have the following support available to them:
Player Services Support - for any queries relating to your rugby enviornment, rugby career, contracts or disputes contact our Player Services Manager - James Parsons - phone 0800 PLAYER or email james.parsons@nzrpa.co.nz
Induction - before you take the field our Super Rugby or Provincial Union will take you through a comphrehensive induction. Click here to find the induction information.
Players' Own Handbook - designed for 15-19 year olds, this magazine is for the players by the players and covers useful tips and information on life and pursuing a career as a professional rugby player. Click here to view the Players' Own Handbook.
Personal Development Programme (PDP)- players are encouraged to be proactive about their development on and off the field. The PDP programme is operated in partnership with NZRPA and NZR to help players reach their full potential and access the support they need.
Personal Development Manager - every professional team has access to their own Personal Development Manager (PDM) who are based in NPC, Super Rugby and Sevens enviornments. There are also PDM's dedicated to overseas and retired players. Click here for a list of Personal Development Managers.
Career Specialist - in addition to Personal Development Managers throughout New Zealand, the NZRPA employs their own career specialist who is available to work with current, overseas and retired players. To arrange a time to call, zoom or whats app our careers specialist please email fiona.brading@nzrpa.co.nz
The Hub - NZRPA's very own online education site featuring a wide variety of topics to help players grow and develop themselves. To access this contact your PDM or email thehub@nzrpa.co.nz
Budgeting, tax and accounting support - the NZRPA is able to connect players who require support in this area with reputable providers.
NZRPA Accredited Agents - player's agents are able to provide a wide range of support services to assist their clients. Click here for a full list of NZRPA and NZR accredited agents.
The Rugby Network - The Rugby Network supports overseas and retired players. For more information on the rugby network click here for overseas players and here for retired players.
Headfirst - Led by NZR, this is a mental health and wellbeing initiative that runs workshops and provides useful tips and strategies visit www.headfirst.co.nz.
INSTEP - players can access confidential and free mental health, wellbeing and psychological support and counselling through the NZR Employee Assisted programme. To access this help contact your Personal Development Manager or click here to call INSTEP directly.
Insurance - players contracted in New Zealand receive life, trauma and medical insurance cover. Click here to view the policy information.
illicit- drug testing and support programme - with a focus on idencification, support and treatment.
Medical team - players have access to team doctors, sports/performance psychartrist, physiotherapists and medical advice and support in their team enviorments.
EXPAND Magazine - a magazine dedicated to helping players prepare for transitioining into their next career. Click here to view the EXPAND Magazine.
Benevolent and Welfare Fund - the NZRPA manages the Benevolent and Welfare fund to provide financial support to players who are no longer able to play professionally due to career-ending events such as illness, injury, accident or death or in the event they are suffering hardship due to unforseen or unfortunate cirucmstances. Click here to view more information about the Benevolent and Welfare Fund.