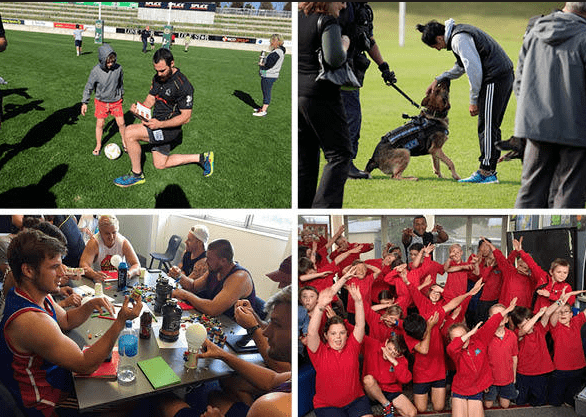 Award Background
All New Zealand Rugby Players' Association members are encouraged to work on their own growth and development off the field during their professional playing careers. This helps them to prepare for their next chapter post rugby and it helps provide an important balance in their life away from the field.
The focus on personal development continues to grow as players become more aware of the importance of being prepared for their next step away from rugby. They also recognise and appreciate the value of having a strong emphasis on their own personal growth off the field and the positive results that that provides. There are some impressive achievements being made by players in this space. The annual NZRPA Player Personal Development Awards celebrate some of these achievements.
Nominations:
Each Personal Development Manager from around New Zealand was invited to nominate a player within their environment who has worked hard on their personal development. These nominations were then sent to a panel who reviewed them and selected the finalists and the eventual winner.
The Personal Development Award panel consists of Emily Downes, NZRPA National Personal Development Programme Manager, Dr Nathan Price, New Zealand Rugby's Education Manager, and Peter Sinclair, a former Personal Development Manager with 11 years of experience with the Highlanders and Otago.
2018 Finalists
Name – nominated by
Adam Burn – Waikato
George Bower – Otago
Sarah Hirini – Black Ferns Sevens
Mitch Karpik - Bay of Plenty/Chiefs
Winner - Adam Burn – Waikato
Waikato's Adam Burn recently sat his final exam to become a chartered accountant. In 2015, he was awarded a Bachelor of Business Analysis degree, majoring in accounting, which he completed while working his way up in rugby.
Following his graduation from the University of Waikato, Adam went on to gain an internship with Deloitte, which led to full-time employment. While working and playing rugby, he began studying to become a chartered accountant.
The former Hamilton Boys' High School head boy has captained Waikato, played Mitre 10 Cup for six years and represented New Zealand in the U20's side at the IRB Junior World Championship. During his playing career he has also won multiple awards.
Adam appreciates the value of personal development and supports and mentors other players and students. He also volunteers for community and commercial events, embracing any opportunity that is available to him.
George Bower – Otago
Making the most of your time and building on your strengths epitomises 26-year-old George Bower from Otago. George has continued to study towards his teaching degree at the University of Otago College of Education while playing his second year of Mitre 10 Cup, after having already spent a few years within development and wider training groups.
After deciding haircuts were too expensive in Dunedin, George has developed a passion for cutting hair. He started by cutting his friends' hair, then this expanded to friends of friends. Word of his skills soon got out and he ended up getting some of the All Blacks and Wallabies players in his little flat kitchen for fresh cuts prior to tests in Dunedin.
Music is another great talent of George's. He has taught himself to play guitar and piano over the years and one of his next goals is to learn to read music. He has also done some part-time work as a resident assistant at a student hall of residence in Dunedin.
George continues to be proactive about learning and developing himself. He has a fantastic positive attitude and a growth mind-set coupled with great time-management skills, which have helped him continue to achieve his goals whilst playing rugby.
Sarah Hirini – Black Ferns Sevens
In addition to her her very successful year as captain, leading the Black Ferns Sevens to gold medals at the Commonwealth Games and the Sevens Rugby World Cup in 2018, Sarah Hirini completed her studies at Massey University. Sarah will soon be graduating with a Bachelor of Arts majoring in sports science and Maori studies, both areas that are very important to her.
Sarah is always an active participant in all personal development opportunities made available for her in the Sevens environment. In addition to her extra duties as captain, she has proudly supported the growth of the women's game and inspired many young females with her professionalism and attitude. She is also a board member of the New Zealand Rugby Players' Association.
Mitch Karpik – Bay of Plenty/Chiefs
Mitch Karpik is part-way through a Bachelor of Management Studies and Law as a conjoint degree, which usually takes five years of full-time study. The current Waikato University and former Auckland University student's commitment to his personal development while balancing a full-time rugby career is admirable. While it can be challenging at times, Mitch's dedication to his life after rugby is reflected in his decision to try to study for two hours per day. This has been rewarded with an 'A' average. He has also had to rehabilitate from several serious injuries.
The 2018 Chiefs Players' Player of the year and Bay of Plenty Good Buzz Player of the Year was selected for the Maori All Blacks' end-of-year tour, showing that having a balance of on-field and off-field focus is achievable.
He is always willing to help out including serving his community on his days off. His work ethic, humble attitude and focus on his life after rugby has seen the loose forward embrace any personal development opportunity with great enthusiasm and a growth mind-set.