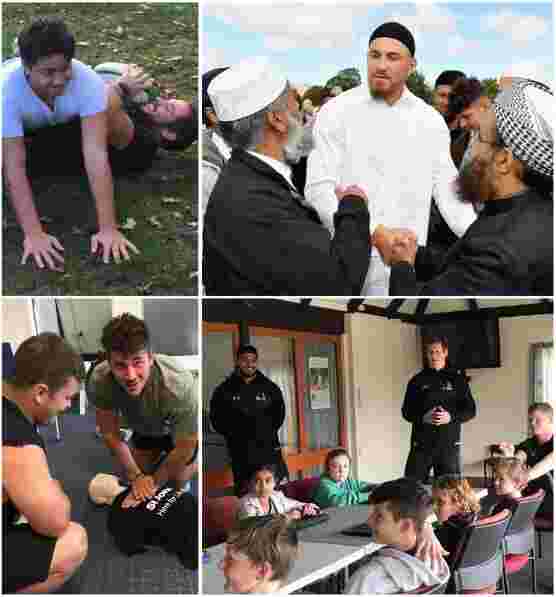 2019 Personal Development Awards
2019 finalists
Name Club nominated by
Laghlan McWhannell Waikato
Sonny Bill Williams Blues
James Blackwell Wellington
Tyler Ardron Chiefs
Winner – Laghlan McWhannell – Waikato/Chiefs/NZU20s
At just 20 years of age, Laghlan (Laggy) McWhannell is making the most of his personal development and has been committed to growing all aspects of his life on and off the field since he first entered the professional rugby environment.
Since joining the Waikato Academy in 2017, the self-motivator has lapped up every opportunity that has come his way, which has resulted in him creating an abundance of opportunities for himself. His hunger to learn and positive attitude mean Laghlan is always one of the first people to volunteer when any help is needed. His personal development programme has seen him completed all of his independent diving certificates and he is now focused on attaining his divemaster certification.
He partnered with The WaterBoy charity, which is focused on breaking down the barriers that prevent young Kiwis from participating in sport. To do this they work with families who may not be able to pay for sports fees, gear, coaching and training. Through The WaterBoy, Laghlan mentors a young person who comes from a challenging background. This is an ongoing commitment that sees Laghlan help the young person to focus on four key areas of life: belonging, goal setting, self-discovery and citizenship.
The lock has completed levels one and two with World Rugby Coaching, knowledge which he utilised when he helped out at Waikato Under 14 and 15 camps. He has also entered the property market having bought his first house in 2019.
Wanting to increase his musical knowledge, Laghlan began taking piano lessons online using a piano that he purchased off Trademe. He also learned some barista skills and improved his cooking through his team personal development sessions. Keen to volunteer for the local fire service, Laghlan wanted to sign up as a volunteer but his Super Rugby commitments mean that he's had to put on hold until he is not traveling as much.
Laghlan also used his personal development to enhance his public speaking skills and put himself in some new speaking situations, which included being an MC for a launch and taking part in discussion panels including the Korero Bro Suicide and Wellbeing panel.
At the same time, his rugby has spanned a wide spectrum from playing in the Jock Hobbs under 19 competition to being selected for the New Zealand U20's and making his debut for both Waikato and the Chiefs. He also had to deal with injury, which he's done with his trademark positive attitude.
Finalist - Sonny Bill Williams – Blues/Counties Manukau/All Blacks
Sonny Bill Williams had an ambitious and extensive Personal Development Plan for 2019. During the year, he prioritised his study and approached it with discipline and effort, which enabled him to complete a Bachelor of Applied Management degree with distinction. His degree focused on community development and sport leadership. While some Super Rugby players say they don't have time to study, Sonny Bill demonstrated that it can be done while still meeting international and domestic sport responsibilities and raising a family. He also constantly encourages other players to pursue learning for both individual and collective growth.
In March this year, in response to the Christchurch attacks, Sonny stepped forward as a global leader and a voice for compassion, understanding and love. On a personal level, Sonny's presence and love for those directly affected by the attack was profound. At a national level, his actions transcended religious norms. His authentic and courageous leadership helped build connections between people of all faiths, ethnicities and backgrounds in New Zealand.
Sonny not only supported our Muslim community in their time of need but also helped many others to better understand the Muslim faith by gracefully challenging misplaced bias, prejudice and fear. Sonny demonstrated how empathic, brave practice can unify and help to heal communities. He stepped up, showed vulnerability and leaned into courage to support people, places and principles that matter. He also competed in his third Rugby World Cup in Japan.
Finalist - Tyler Ardron – Chiefs/Canada
Tyler Ardron has been a great example of a player who embraces and leads his own personal development. As an advocate for the Personal Development Programme, Tyler attended all the team workshops consistently adding value through questions he asked and experiences that he was able to share.
During the Super Rugby season, Tyler completed his World Rugby Coaching level 2 and showed initiative in sourcing support for his individual personal development interests. This was made evident by him gaining his restricted motorcycle licence as well as taking French lessons in order to strengthen his understanding of one of the official languages of his home country of Canada.
Tyler understands the importance of getting away from the rugby environment both physically and mentally. He made the most of the days off by organising hunting trips, and by organising experts to show a group of interested players how to carve up and store the meat from their hunting trips.
Tyler led self-care team sessions, which included yoga and meditation, and he has been a strong advocate for personal development, so much so that he even came up with ideas for sessions that he believes would benefit other players. Tyler was recently named the Captain of the famed all-star Barbarians team who played an international match against Brazil. The lock will be back for the Chiefs in the upcoming season having captained Canada in the recent Rugby World Cup. After Typhoon Hagibis in Japan he and his team helped with the clean-up in Kamaishi which was recognised by the Japanese locals.
Finalist - James Blackwell – Wellington/Hurricanes
This year, Wellington and Hurricanes lock James Blackwell graduated from Victoria University in Wellington with a Bachelor of Commerce in Business Administration and Management, which he completed while playing.
Since graduation, James has created a presentation to enable him to gain more confidence in public speaking. In it, James has combined what he has learned from the Wellington academy and the Mitre 10 Cup team and he now speaks at schools and rugby clubs around the region. The goal of his presentation is to help young athletes to understand what it takes to become a top-quality rugby player. Topics he covers include resilience, setbacks, growth mind set, recovery/sleep and nutrition.
James is financially savvy with serious goals, one of which he achieved this year when he entered the property market. As part of this process, he undertook his own additional financial education by connecting with various organisation and providers.
He is an impressive leader and, having realised the rewards from doing so himself, he encourages others to pursue personal development opportunities. James is hugely diligent both on and off the field and is highly dedicated to improving himself and making the most of every opportunity that is available.
Awards background
All New Zealand Rugby Players' Association members are encouraged to work on their own growth and development off the field during their professional playing careers. This is a key part of their preparation for the life after rugby and it help provide important balance, value and success to their life away from the field.
Players are making some impressive achievements in this space as they become more aware of the importance of being prepared for their next step away from rugby. Many players also recognise and appreciate the value and results that placing a strong emphasis on their own personal growth off the field provides. The annual NZRPA Player Personal Development Awards celebrate some of these achievements.
Nominations
Each Personal Development Manager from around New Zealand was invited to nominate a player within their environment who has worked hard on their personal development. These nominees are sent to a panel which reviews them then selects the finalists from which a winner is chosen.
The Personal Development Award panel consists of NZRPA National Personal Development Programme Manager, Emily Downes, Dr Nathan Price, New Zealand Rugby Education & Wellbeing Manager, and Peter Sinclair, a former Personal Development Manager with 11 years of experience with the Highlanders and Otago.