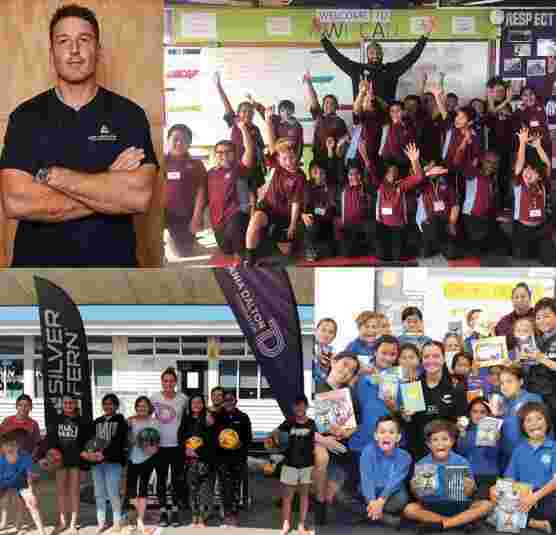 2020 Personal Development Awards Finalist and Winner Announced


2020 Personal Development Awards finalists and winner

2020 Finalists
Name Club nominated by
Stacey Fluhler (nee Waaka) Black Fern Sevens
Patrick Tuipulotu Blues
Renee Holmes Waikato
Jordan Hyland Northland
Stacey Fluhler (nee Waaka) – (Black Ferns Sevens) – WINNER
Stacey's Fluher's relentless work ethic is evident both on and off the field. With the postponement of the Tokyo Olympic games and the cancellation of Sevens World Series tournaments, the humble Black Ferns Sevens player redirected her focus towards creating new personal development opportunities including connecting to and give back to her community.
In 2020 alone, she built and launched her own website – staceyfluhler.com – from scratch with no formal training. The website offers a range of quality content all created by Stacey. This includes an online programme she has developed to help busy people, including aspiring athletes, optimise their personal organisation, self-belief, work-life balance and enjoyment of life. She created, scripted, filmed and edited the content herself, drawing on the knowledge she's gained working in high-performance environments and her own experiences as a professional athlete.
She released a book Stacey Waaka: World Champion Rugby Player. The book, which is aimed at younger readers, details the Ruatoki-born Sevens star's journey from childhood in Whakatane to achieving her dream of representing New Zealand. Along the way, she shares her own accounts of adversity and resilience.
The high energy Prime Minister's Scholarship recipient is currently finishing her Post-Graduate Diploma in Business through Massey University, and she has already gained a Bachelor of Health, Sport and Human Performance from the University of Waikato.
Stacey also launched a business, called TSA (The Smiling Assassin), selling hair accessories .
Stacey is a mentor for The WaterBoy. On behalf of the charity, she works with young people on a one-on-one basis and speaks at schools and events to spread their message of inclusivity, support and diversity in sport. She is also an ambassador for Duffy Books, a voluntary role through which she shares her love of reading and supporting education.
Last year, Stacey took on her first presenting role in television as the co-host for Te Ao Toa – a bilingual one-hour sports programme discussing the latest sports news from a Māori perspective, which aired on TVNZ 1 on Sunday nights.
Stacey continued her guest-speaking work, presenting at schools and businesses, sharing her journey and love for the game. She also got married and began building a new house while playing for Waikato, who were finalists in the Farah Palmer Cup 2020.
Stacey also won World Rugby Sevens awards for top try-scorer, for impact player (a stats-based recognition of overall performance) and was named in the official women's Dream Team. She is living proof that personal development is a performance enhancer.
Patrick Tuipulotu (Blues) – Finalist
There is a Samoan proverb:
"O le ala I le pule o le tautua."
"The way to authority is through service."
Patrick Tuipulotu has adopted this proverb as he grows for and with his people. At the heart of Patrick's practice is a desire to positively influence people, places and environments. He does this at every opportunity and consciously endeavours to contribute to communities with competence and compassion.
In 2019, Patty completed his Bachelor of Applied Management degree with distinction. His assessments focused on community development, cultural responsivity and leadership. He prioritised study alongside his high-performance sport requirements.
In pre-season he wanted to intentionally apply what he studied. Throughout the season he continued to study leadership and learnt his heritage language (Samoan) alongside fellow players and staff, which saw him putting in over 60 hours of education. He was encouraged to converse to audiences in Samoan and courageously broadcasted his new learning during post-match interviews. By doing so he became a very respectful and unassuming agent of change. This action had a ripple effect with many players and other rugby personnel taking up the mantle and doing the same in their heritage languages.
Patrick 's third personal development goal was to complete community work alongside the Graeme Dingle Foundation and the Village Trust (founded by Sir Michael Jones). During the first lockdown and Super Rugby Aotearoa, Patty delivered groceries to those in need. He stepped up to support people, places and principles that matter. He met with children/youth in their schools and discussed topics such as the importance of friendship, resilience, goal-setting and positive connection.
Patrick continued to develop throughout the season. Lockdown didn't restrict or limit his involvement in personal development – it further fuelled it. Patrick showed he had a willingness, capacity and ability to learn to grow himself as a person.
Renee Holmes (Waikato) – Finalist
Renee Holmes is passionate and driven when it comes to her sports. At 20 years old, she had represented New Zealand in age-grade football, taekwondo and ultimate frisbee In November, she added playing for the Black Ferns to this impressive list of achievements.
Despite all of these on-field achievements, it is her off-field character, commitment and achievements that have seen her become a finalist for the 2020 Personal Development Awards.
Family and community are very important to Renee, who represents the Waikato Rugby Union, and she helps create a family atmosphere and builds strong community links wherever she goes, integrating her whanau and rugby whanau strongly together.
In 2018, Renee was named as one of 11 inaugural recipients of the Tania Dalton Foundation scholarship programme. As part of the programme, Renee was given financial, mentoring and personal development support to "unlock her talent and enable her to live her biggest life".
Throughout her three years as a Tania Dalton Ambassador, Renee has been involved in many initiatives that demonstrate leadership and inspire others. She also gives back to her hometown of Gisborne where she runs summer rugby camps for the community.
She is studying a Bachelor of Health, Sport and Human Performance at the University of Waikato, which she had to postpone in 2019 when she got the opportunity to play Sevens Rugby for the Hokkaido Barbarians in Japan. Renee spent four months playing in Japan, an experience she enjoyed until Covid-19 hit.
As she had already postponed her study for a year, Renee and her partner Quade Tapsell, also a rugby player, set up a new online business, Boost Body Recovery. The business imports and brands a range of recovery aids for athletes and non-athletes who require support to boost blood flow and muscle recovery.
For this venture, Renee has also linked up with fellow player Toka Natua, , who has her own design and screen-printing business. Toka has developed a logo for the brand and she screen prints their products.
Renee is independent and mature beyond her years; she manages herself but is always the first to lend a hand to support young and emerging players. Renee frequently goes above and beyond to support others; she is adaptable both on the field and off and is able to pivot and change to the needs of the environments.
Jordan Hyland (Northland) – Finalist
Jordan Hyland has supported his player group by providing mentorship and employment opportunities. His skills in whanaungatanga and commitment to te reo me ona tikanga have inspired others to follow suit by relinquishing the whakama that has inhibited their reconnection to culture and identity.
Outside of rugby, Jordan owns his own company called Apex Recruitment, a labour hire company in the demolition, residential, commercial and civil construction industry. During a difficult Covid-19 economy, he has continued to build a values-based family business, and in doing this, he has provided rugby players with interim or longer-term employment opportunities. He's done this all while playing for Northland, the Blues, Highlanders and Maori All Blacks.
Jordan is an all-rounder, a family man and a role model for younger players coming through. Jordan has a resilience and a winning attitude that allows him to succeed both on the field and off while taking others with him.
Personal Development Awards background All New Zealand Rugby Players' Association members are encouraged to work on their own growth and development off the field during their professional playing careers. This is a key part of their preparation for life after rugby and it helps provide important balance, value and success to their life away from the field.
Players are making some impressive achievements in this space as they become more aware of the importance of being prepared for their next step away from rugby. Many players also recognise and appreciate the value and results that placing a strong emphasis on their own personal growth off the field provides. The annual NZRPA Player Personal Development Awards celebrate some of these achievements.
Nominations Each Personal Development Manager from around New Zealand was invited to nominate a player within their environment who has worked hard on their personal development. These nominations are sent to a panel that reviews them then selects the finalists from which a winner is chosen.
The Personal Development Award panel consists of NZRPA National Personal Development Programme Manager, Emily Downes, Dr Nathan Price, New Zealand Rugby Education & Wellbeing Manager, and Peter Sinclair, a former Personal Development Manager with 11 years of experience with the Highlanders and Otago.