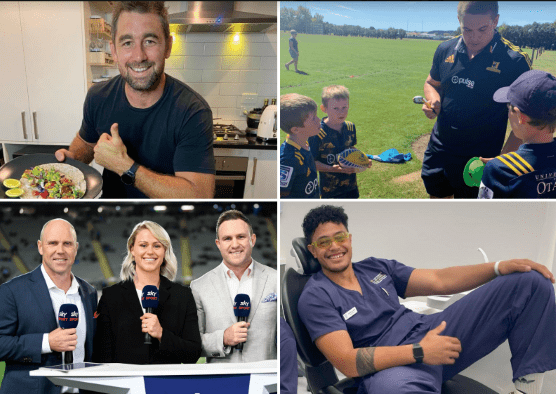 2021 Personal Development Awards
Winner
Kurt Baker – All Blacks Sevens
Kurt Baker is a true ambassador and advocate for personal development. He role models a growth mindset and the relentless pursuit of his best self both on and off the field.
The past year has been an exceptional one for Kurt. As well as winning a silver medal in Sevens at the Tokyo Olympic Games and becoming a dad for the first time with the arrival of beautiful Lula, he has become a licensed real estate agent and continued work with ASB Bank, a relationship he brokered entirely on his own following a Personal Development session.
The hard worker has not only prepared educational nutrition modules with New Zealand Rugby to support the upskilling of emerging players, but he has also mentored players directly, helping them develop this essential life skill. On top of this, he has continued to develop his own cooking platform on Instagram (@krutskitchen), completed his Level 2 Coaching certificate while coaching a local school team, and added another property to his independently built portfolio. Alongside his All Blacks Sevens peers, he has also completed community work for Tauranga-based charities.
Kurt has been a phenomenal advocate for the benefits of personal growth and development and the Personal Development Programme. During the year, Kurt has been the keynote speaker at several events, including at the Blues, where he shared the transformational power of being self-led in personal development and talked about the many ways his off-field growth has enhanced his on-field performances and contributed to the longevity of his career. Kurt is an outstanding, passionate, kind, and intelligent individual.
Finalist
Chelsea Alley – Waikato Wahine, Black Ferns
Chelsea has been a foundational part of the Waikato Women's High-Performance group for the past few years. As a high-performance player, she is part of the leadership group and has been captain of the Waikato Wahine for the past two years. Her nomination for the 2021 NZRPA PD awards is based on her off-field attributes, maturity and leadership, strength of character, passion, commitment and accomplishments.
Just when you think she has done everything, Chelsea steps up and takes on new challenges. While completing her teaching diploma, Chelsea worked as a Rugby Development Officer, first with North Harbour and then with Waikato rugby union. Between the two unions, Chelsea spent just over two years developing community rugby and, in particular, women's rugby players.
Since leaving the rugby environment as a paid employee, she has volunteered and given back to women's rugby at female development camps and through coaching.
Chelsea is always happy to support young and emerging players as well as players new to the High Performance and Black Ferns environments. She often provides support and advice to those transitioning to representative level.
After completing her Bachelor of Sport and Exercise Science, Chelsea went on to complete a Post-Graduate Diploma in secondary teaching, physical education and health. Chelsea currently teaches part-time at Hamilton Boys' High School, which works alongside her rugby and commentary commitments.
Chelsea supports community initiatives like the WaterBoy, a Hamilton charity that supports rangatahi to participate in sports.
Family and community are very important to Chelsea, and she also champions family for other players. In 2021, along with the senior leadership team, she has worked hard on the culture and family inclusiveness for the Waikato Wahine, many of whom have young babies who they bring games, including to the changing sheds at half-time, and who they travel with to away games.
Chelsea demonstrated huge courage and vulnerability when, after the inaugural Chiefs versus Blues women's match in May, she shared a very personal account of the highs and lows of high-performance rugby as a female athlete.
One of Chelsea's new challenges for 2021 was joining Sky Television as a commentator and one of her proudest achievements was commentating the All Blacks versus Fiji game in Dunedin in July.
Finalist
Christian Lio-Willie – Otago
Otago flanker Christian Lio-Willie is a man with many talents both on and off the pitch. As an 18-year-old Samoan from Massey in West Auckland, he was offered a variety of rugby opportunities, but his parents insisted he obtain a university degree before pursuing a career in rugby.
With aspirations to study physiotherapy, Christian secured a scholarship to the University of Otago, but after his first year studying health science, he saw a need in the Pacific community for a familiar face, someone who understood Māori and Pacific culture and who could help educate the community about oral health. Christian wanted to help make that change in the community so he changed courses and found his calling in dentistry.
Over the past five years, Christian has faced many ups and downs, but his parents have remained a driving force and a constant reminder of why he's doing what he's doing.
'la e ava I lou tama ma lou tina, ina ia fa'aleavaleva ai ou aso.'
'Honour your father and your mother so that you may live long on the land your god gave you.'
Christian debuted against Southland this season then continued to help his team to reach the Championship final. Throughout the season, he has managed to strike a balance between rugby and study, prioritising every minute for training, studying and practising dentistry. At the same time, Christian has also been an inspirational mentor as a house master at Otago Boys' High School.
This December, Christian will be one of nine Pasifika students who will graduate with a Bachelor of Dentistry from the University of Otago. There are only 95 graduates in this programme nationwide.
He is looking forward to being a qualified dentist while also pursuing his professional rugby career, while not forgetting that he is also a TikTok sensation!
Finalist
Ethan de Groot – Highlanders
Highlanders' loosehead prop Ethan de Groot has continued to grow and develop on and off the field. During the 2021 season, he worked hard on his professional habits, mindset and performance, which resulted in him becoming a starter during the Highlanders campaign then led to his selection in the All Blacks.
As a humble Southlander, Ethan gives a lot of his time to his community. After a hard day's training, he has been known to spend his evenings answering questions from local school kids to help and inspire them.
Along with the whole Highlanders franchise, Ethan collaborated with the staff of Te Koronga at the University of Otago, who, for many years, have worked with the Highlanders to grow their understanding of te reo Māori (Māori language), te ao Māori (Māori worldview) and hauora (wellbeing). This season they explored tikanga (protocols) and the best way to create a meaningful haka to represent the region. Through a lot of hard work, early starts and Personal Development sessions, the haka 'Hautoa kia toa' was created and performed.
Ethan and his partner Claudia Hutton started their own clothing line 'kind sir'. Their popular t-shirts and hoodies were a hit with the Highlanders franchise and soon found favour with customers throughout New Zealand. Their first drop sold out overnight and this has continued to be the case with successive drops.
The brand name started as a joke between Ethan and former teammate Rob Thompson, who referred to each other as 'kind sir' as part of their banter. The process of starting the business has been a real learning journey for Ethan and Claudia, which included developing their logo, sourcing products, promoting the business on social media then expanding their range.
The couple has also engaged in the 'Audacious Highlanders' programme. This is a collaboration between Startup Dunedin and the Highlanders, which is designed to encourage and support players to build their entrepreneurial skills and confidence in order to turn their business ideas into a reality. This input provided them with validation that they were on the right track as well as some recommendations and key contacts to help with their next steps.
While all of this was progressing, they were also able to access good financial advice and invest in their first property.
AWARD BACKGROUND
All New Zealand Rugby Players' Association members are encouraged to work on their own growth and development off the field during their professional playing careers. This helps them to prepare for their next chapter post rugby and it helps provide an important balance in their life away from the field. The focus on personal development continues to grow as players become more aware of the importance of being prepared for their next step away from rugby. They also recognise and appreciate the value of having a strong emphasis on their own personal growth off the field and the positive results that that provides. There are some impressive achievements being made by players in this space. The annual NZRPA Player Personal Development Awards celebrate some of these achievements.
NOMINATIONS
Each Personal Development Manager from around New Zealand was invited to nominate a player within their environment who has worked hard on their personal development. These nominations were then sent to a panel who reviewed them and selected the finalists and the eventual winner. The Personal Development Award panel consists of Emily Downes, NZRPA National Personal Development Programme Manager, Dr Nathan Price, New Zealand Rugby's Education Manager, and Peter Sinclair, a former Personal Development Manager with 11 years of experience with the Highlanders and Otago