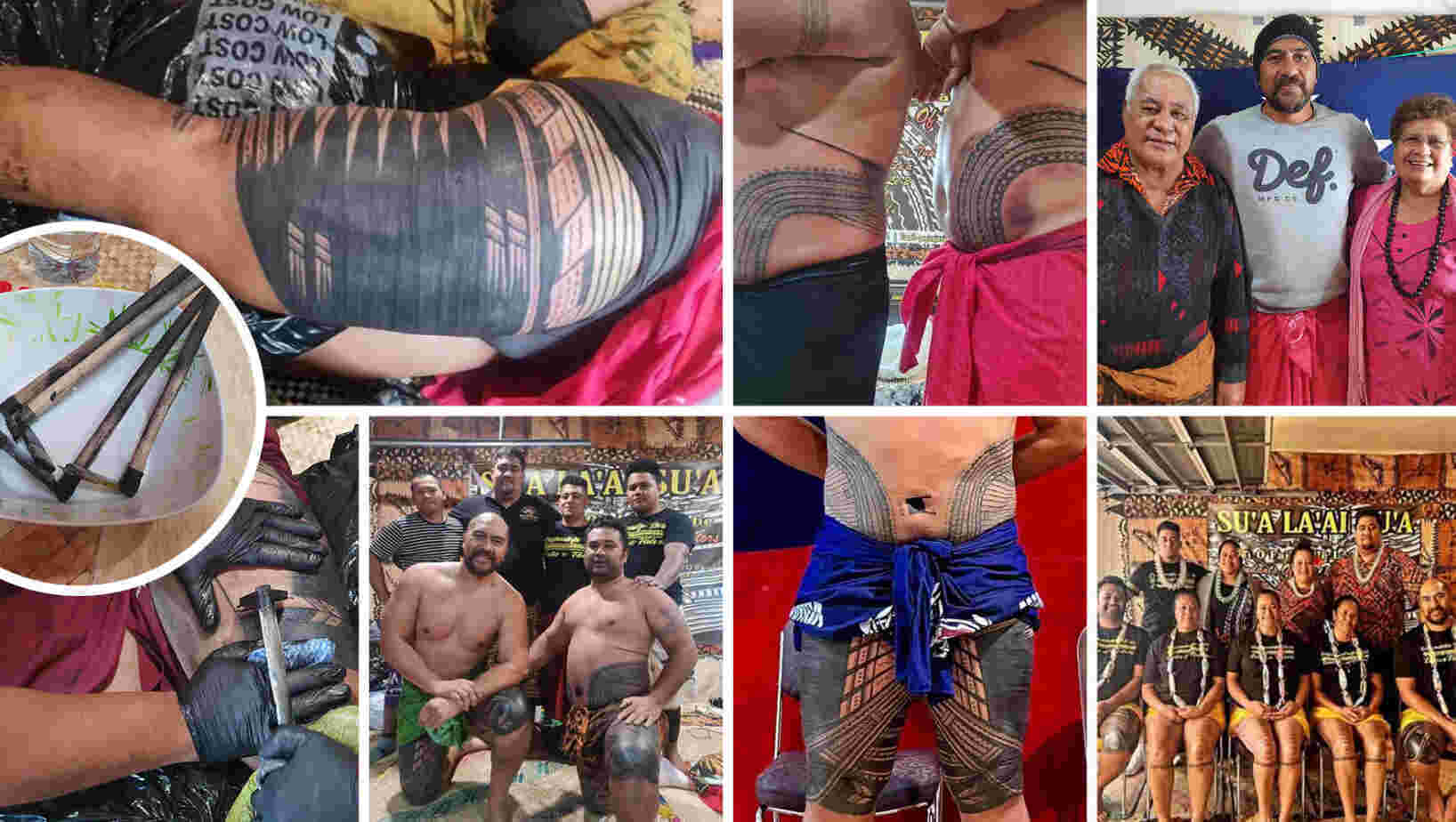 Total awe and complete respect seem inadequate to describe how you feel when you view first-hand the physical intensity and cultural significance involved when someone gets their traditional pe'a or malofie – a traditional Samoan tattoo that reaches from the mid-back to the knees.
Incredible pain, unbelievable resilience, phenomenal family pride, impressive skill and spirituality are all part of the inspiring journey of the pe'a.
We have seen players like Saveatama Eroni Clarke, Vaovasamanaia Seilala Mapusua, Taelega Tanner Villi, Leota Filo Titia and Mase Mahonri Schwalger wear their pe'a with pride, but it is not until you have experienced it yTotal awe and complete respect seem inadequate to describe how you feel when you view first-hand the physical intensity and cultural significance involved when someone gets their traditional pe'a or malofie – a traditional Samoan tattoo that reaches from the mid-back to the knees.
We were privileged to follow former North Harbour and Manu Samoa player, university lecturer, former Personal Development Manager and now Leataata Wellbeing and Educational Centre Director, Tapuaī Malua Tipi, his brother Su'a Lole and their legendary tenth generation tatau artist, Su'a Esau La'ai Su'a, and his team on this journey.
Tapuaī Malua said, "You can go in thinking you're prepared, but it is not until you do it that you realise how unprepared you really are. However, once you complete the journey, it is like you are reborn. It is an amazing feeling. It is almost like a badge of honour to ensure the custom continues. Apart from the birth of my children, it would be the most rewarding experience of my life."
Ironically, before his transformation to being fully covered from his knees to his stomach as he united with his heritage in a true cultural and spiritual journey, Tapuaī Malua did not have a single tattoo.
To set the scene, the Tipi garage had been lined floor to ceiling with siapo (traditional tapa wall hangings) and fala (traditional mats). In the corner is a big speaker from which music plays and power packs for charging phones so plenty of photos and video can be taken. Chairs line the wall ready for guests as hospitality is a big part of this special occasion. The pe'a process involves the whole aiga (family), friends, the wider community and, on this occasion, several politicians who visited, and they all must be fed – a core and wonderful part of any Pasifika event.
Day one of week one starts with a formal blessing and prayer. Then, once all his equipment is ready, the tatau artist, Su'a Esau La'ai Su'a starts work using the same traditional methods handed down by his ancestors in Samoa. The only slight nod to modernisation being some tools have changed due to hygiene reasons. For example, the chisels used now are made of piercingly sharp plastic and not turtle shell.
The hammer methods, however, are all the same and the tap, tap, tap of the stick on the chisel becomes a mind game of strength, with each hit into the skin causing pain. There are thousands of these strikes each day and their sound becomes haunting and trancelike, each one providing a dual symbol of pain and beauty and marking a step closer to completion.
Hygiene is paramount and there are some simple rules. For the duration of the tatau, which for Tipi brothers took two full weeks, neither of the brothers was ever left alone and they were not allowed to shave. They had to have a chaperone everywhere they went in case they passed out or collapsed as has happened to some undertaking the process. The attention to safety from Su'a Esau La'ai Su'a was first class.
Malua's decision to get his pe'a was simple. His mum has terminal cancer and for him and his brother having their pe'a was very special to their mum and their wider aiga and it played an important role in their standing in the Samoan culture. Watching the pride beam from their parents as they supported their two sons was powerful, especially when you knew that time was not on their side.
Malua's mum's terminal cancer diagnosis is a double blow for Malua, who lost his beautiful wife Moana to breast cancer, leaving him to raise their three children. He ensures his late wife's memory lives on in the form a legal scholarship as she was a lawyer, and her name is reflected in the Super Rugby team's name. (Malua was part of the original steering group that launched the first game under the Moana Pasifika umbrella in 2021 when they played the Māori All Blacks in Hamilton.)
When the pain became unbearable during the tatau process, which it did on multiple occasions every day, Malua would just look over at his mum, his children, his partner Rachel and his aiga sitting near him and draw strength from them. Against the backdrop of traditional Samoan music playing, there were continuous cheers of support from those watching, who were all required to wear a lavalava out of respect. With sessions lasting up to seven hours at a time, this support was critical.
The highly talented and gifted tatau artist Su'a Esau La'ai Su'a comes from the famous La'ai Su'a aiga, who have been trained in this artform for many decades. He is the sixth in the aiga to carry on the tradition.
Su'a Esau La'ai Su'a arrived in New Zealand five years ago and has been plying his trade with the help of his brother and cousins. The demand is high and he and his team work extremely hard during exceptionally long days. They start early each morning and work all day, only stopping for meal breaks. They then continue on into the night for as long as each tatau takes. Their work ethic, level of commitment and artistry is incredible.
No formal designs are drawn on paper or agreed before the tatau process begins. The spirit of the design simply flows down into Su'a Esau La'ai Su'a, through his chisel and onto the skin. His craftsmanship is beautiful and each of his works bears a unique meaning for its recipient and their family. In Malua and Lole's case, as a special acknowledgement they were gifted a centipede as part of their pe'a. The centipede, which is part of the bloodline of Esau La'ai Su'a's aiga, is aligned through each of the members of his family who have them, including the women who had their thighs tatau. The Tipis' female cousins also had their malu (traditional women's upper leg tatau) done as part of the aiga tatau sessions, while Malua's daughter got her first tatau vae (a traditional pattern around ankle).
It hurts, it hurts a lot, but the rewards are worth it. As Su'a La'ai Su'a pointed out, some people give up part-way through as the pain can become too intense. He said they might come back to it many years later or they might not. It is a true test of mental strength and when you finish, the sense of accomplishment is surreal. You become part of an elite club who have endured the pain and wear their pe'a like the badge of honour it is.
Some useful tips for anyone considering this massive undertaking:
Expect bruising. Every day there are new bruises and, after you have been lying on the fala, it can sometimes be challenging to get upright, so take the transition from the ground to standing very slowly and gently.
Have a good supply of Bepanthen cream available to put on each day and be prepared for your body to itch at a level you have never experienced as it can even put chickenpox to shame.
Invest in plenty of lollies, food and drinks to keep the tatau artists fed and hydrated. They are in complete control, so you need to treat them like royalty and remember – what they say goes.
Buy lots of pillows, then put each of them in a plastic rubbish sack. Tape the sacks to secure the pillows inside. The pillows will be used both for people to sit on and to prop up body parts as they get worked on.
Make sure you have lots of clean buckets and access to plenty of fresh water so the tatau artists can wipe the ink as they go.
Have a big support crew. This is a journey you do not want to undertake alone. The love and care shown by the aiga supporting the person getting the tatau is pure and once you see this in action you'll understand how essential it is.
Make sure you have an extensive playlist of great traditional music. You are in for a massive few weeks, so the last thing you need is music that is repeated so often it drives you crazy. There is enough to mentally contend with from the sound of the tapping and the pain without anything else unsettling you.
You are putting your entire life on hold for a few weeks, so clear your diary. You will be exhausted by the process each day, so life needs to be as simple as possible so you can focus on the journey.
If you are visiting, do not go empty-handed. Take food, wear your lavalava and be prepared to sit for a few hours. Do not stand on the fala where the tatau artist is working or go near the artist. This is not a rush-in-and-out scenario. It is one that commands the utmost respect. Take the time to absorb and embrace the occasion as this truly is a very special event and one that will leave an indelible mark in your memory and on their body.
A full interview with Malua is available on THE HUB player learning platfom in the Rugby Network or Video section. ua, please contact Mark Ranby at the Rugby Network (mark.ranby@nzrpa.co.nz or on 021 1742777) to be connected with him.