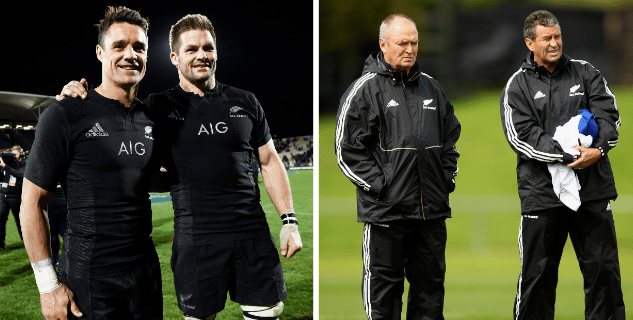 Previous articles by the NZRPA have featured career options that players have undertaken including hospitality, medicine and trades, but in this story, we explore how those involved with the game are using impressive innovation to give back to the sport by providing a unique service.
With the 2019 Rugby World Cup in full swing, previous cup winners Sir Graham Henry, Wayne Smith, Richie McCaw and Dan Carter continue to be committed to giving back to the game. Their passion for rugby has seen them become involved with one of the world's leading coach and player education websites, www.therugbysite.com.
The site is about to launch a ground-breaking service providing remote virtual match content analysis. In order to deliver this innovative service, which will provide access to the world-class analysis anywhere in the world, The Rugby Site are providing opportunities for past and present New Zealand players who are interested in doing paid, remote analysis work to join their team.
Double Rugby World Cup-winning captain and Christchurch Helicopters' pilot, Richie McCaw said: "It is still important to me that rugby continues to grow and that people – regardless of where they live – are able to able to access good coaching and keep inspired to be part of the game. I believe The Rugby Site is the ideal vehicle to do that."
The Rugby Site, which has been around since 2011, has already established itself as a top resource for coaches and players around the globe. It currently features more than 450 videos from world-class coaches and players, but demand has grown to such an extent that the site is expanding their range of services to provide virtual analysis.
Coaching guru Wayne Smith, who is well known for his desire to share knowledge and empower those around him, said, "The Rugby Site is possibly the best rugby coaching tool in the world, and that's why I got involved. With all the world-class coaches and players sharing their secrets and philosophies, you will continue to develop your coaching and playing knowledge and it will improve performance. It is that simple.
"I believe that virtual analysis will be extremely useful to both coaches and players at all levels, because even the best coaches and players in the world need to keep up to date with the current thinking in our game. They need to be challenged and have different perspectives in order to stay ahead in rugby."
A global campaign to promote The Rugby Site's new virtual analysis service will be launched after the 2019 Rugby World Cup, by which time their analysists will be trained and ready to process content.
Dan Carter, who is heading back for another season with Kobe Kobelco Steelers, has played under some of the best coaches in the world. He says that quality feedback is crucial for improving your game: "I'm rapt that The Rugby Site is making this service available to everyone. I have been fortunate to have some great coaches who have really put time into reviewing my game, but the reality is not everyone has had access to that. Getting feedback on your game through a different lens and perspective, in addition to practice, is the best way to keep improving, so this virtual analysis will be a great service to those who want to use it to improve their performance as a player or a coach. It's also a great way for players to give back to the game by becoming analysists and sharing their knowledge."
For New Zealand players and coaches around the globe, becoming a match content analyst is a great opportunity to earn some extra money by using skills they already possess. In addition to offering past and present players paid work for doing analysis, The Rugby Site are also able to film coaches or players for pieces on their site to enhance their profile.
The Rugby Site will also offer New Zealand Rugby Player Association members (all New Zealand professional rugby players past and present) an exclusive special discounted rate to subscribe to their content. Access to content will offer members an opportunity to improve their own coaching and enhance their own performance and that of their team. (See the link at the bottom of this article to activate NZRPA's exclusive discount).
According to The Rugby Site CEO Phil Connolly, the desire to improve performances with a personalised approach is growing: "We have learnt that the review process is only as good as the coaches' knowledge and understanding of what they are reviewing. If the coach does not seek to improve that knowledge and understanding, the review process will be the same and will not improve the team's performance. As a result, they, along with individual players, are seeking different feedback from external, highly educated sources. This is where we come in by offering an easy, professional service of content analysis."
Content review analysis will be offered on macro and micro-unit aspects of the game for men and women, fifteens and sevens, for forwards and backs, for attack as well as for defence, and for positional play. Content to be reviewed can come from anywhere in the world with the site being particularly popular in the United Kingdom, USA and in countries where coaching resources are limited. Subscribers can select how often they want to submit content for review. It can be a one-off, but more frequent options are available depending on the customer's needs.
The analysis process will be kept simple. Rugby footage with a five-minute limit, which is specific to an area of the team's play such as the breakdown or lineout, will be uploaded to a cloud storage system. Once the content has been position categorised, a notification will then be sent to one of The Rugby Site's analysts. This ensures that the content is reviewed by a person who is a specialist in the position to which the footage relates.
The first analyst to accept the job will review it and comment on the footage using the analysis software of their choice. The analyst must be able to turn the footage around within two to five days, depending on the subscriber's request.
Once the analysis is complete, the expert's feedback is sent back to the subscriber along with relevant session plans and videos that are already available on the site. If the feedback is implemented, it will improve the coach's knowledge and understanding, and, in turn, enhance the team's performance. The subscriber will then be encouraged to rate the analyst, while the analyst can rate the subscriber's coaching and video.
Full training is provided to become an analyst and will vary, depending on the reviewer's familiarity and experience with analysis work. Analysts will be taught to use the necessary software during the online training provided by The Rugby Site, but those who are already familiar with analysis software are welcome to use programs that they are already familiar with.
The analyst will be paid per review, which is expected to take 15 to 20 minutes to complete. Details of review payment will be discussed directly with you by The Rugby Site CEO when you express your interest. As an approved analyst, you will also have free access to paywall content on The Rugby Site.
Given the nature of the professional rugby environment, Phil believes that the majority of content reviewers who meet the criteria to work for The Rugby Site will get up to speed exceptionally quickly.
Criteria for becoming an analyst for The Rugby Site
You must be a past or present player with at least three years' Super Rugby or national rugby experience, which includes women's rugby, Black Ferns and Black Ferns Sevens, or have coached at a Mitre 10 Cup/Farah Palmer Cup level or above.
All analysis is done remotely in the comfort of your own home, so you just need to own a laptop that is compatible with analysis programmes like Gameplan, Wipster or Hudl.
If you are interested, contact The Rugby Site CEO, Phil Connolly by email at phil@therugbysite.com. Include your playing history, contact details, where you are based and, if known, what program you would prefer to do the analysis work in. Analyst numbers are limited and, depending on positional experience, it will be approved on a first in, first served basis.
To take up the NZRPA special subscription price of NZ$75 per year (down from the standard $119) to access the paid coaching content on The Rugby Site, players just need to click on the below link: www.therugbysite.com/subscriptions/43/member_subscriptions/new.
For further information contact
The Rugby Site
Phil Connolly
phil@therugbysite.com
Mob 021418424
Or
NZRPA Communications Manager
Kylie Devlin Sousa
kylie.devlin@nzrpa.co.nz
Mob 0274996540