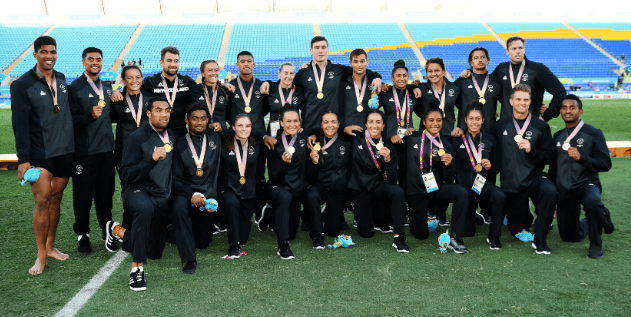 The New Zealand men's and women's sevens teams have claimed gold at the Gold Coast Commonwealth Games.
It is the first time the women's sevens has featured at the Games, writing New Zealand into the history books claiming both titles in 2018.
The women got their campaign under way on Friday with wins over Kenya (45-0) and South Africa (41-0) before confirming their place at the top of their pool with a 24-7 win over Canada yesterday.
The men had three pool matches yesterday and needing to finish top of the pool to qualify for the semi finals they went three for three with wins over Zambia (54-0), Kenya (40-7) and Canada (33-7).
Both teams set up semi-finals against England, played earlier today, with the women winning 26-5 and the men 17-12, setting up Finals against Olympic champions Australia and Fiji.
The women's Final played first, New Zealand going out to a 12-0 halftime lead before Australia clawed back in the second half to take the match to extra time. An 80 metre try from Kelly Brazier secured the win and the first ever women's sevens gold medal.
The men's Final followed and similarly New Zealand dominated the opening spell, going into the break 14-0. A scoreless second half saw the New Zealand men secure their fifth Commonwealth Games gold medal.
New Zealand Rugby CEO Steve Tew said it was a proud day on the Gold Coast.
"This is an extremely special result for our sevens teams and will go down as a great day in our sevens history.
"Both teams had a disrupted build up with injury and illness affecting their squads. These results are testament to the hard work they have put in during the lead up to the Games and over this weekend.
"For our women to claim the first ever women's sevens gold medal is fantastic, this is a group of players that continues to impress and inspire and that final was enthralling.
"A number of our men's team were part of the silver medal winning team four years ago, so for them to experience gold today is a great result. "On behalf of New Zealand Rugby I congratulate both teams, and their management staff, on their success at the Games," said Tew.