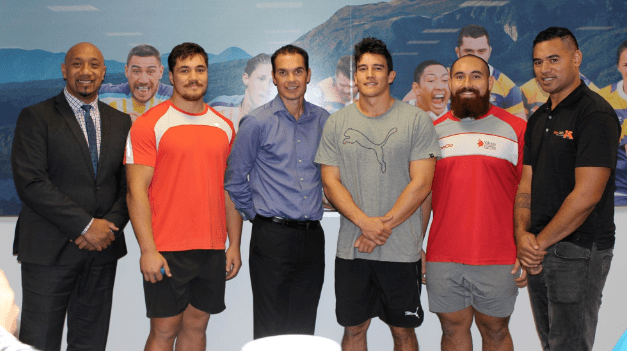 With a call for more male mentors and teachers to be in schools the Bay of Plenty Rugby Union have partnered with Key Skills Recruitment this year to deliver an Education Ambassadors Programme through the utilisation of contracted Bay of Plenty Rugby Steamers players in schools.
There is a total of eight Bay of Plenty Rugby Steamers who have been involved during terms one and two supporting at risk students at eight different schools within the Tauranga area. Their job as education ambassadors is to support at risk students with one on one student development. The programme is designed to inspire and motivate the targeted students to improve their attendance and encourage them to achieve the best of their abilities.
Bay of Plenty Rugby Union CEO Mike Rogers highlighted the importance this programme offered not only to the players but the benefit it provided to the community.
"It is great to be able to see the players involved grow as men. It has been a key focus that it is not only about growing the players and exposing them to the opportunity to further develop as individuals but provide added value to our community."
"We know that there are a number of kids who look up to these players and it is a great opportunity to make a positive change for these kids. Kids involved are now excited to turn up to school and enjoy being at school which is a huge positive change we have seen," said Rogers.
What has made this programme a success to date is all eight ambassadors have been selected on their suitability to excel in the role and more importantly they have received the appropriate training and support.
Ati Aaifou-Olive from Key Skills Recruitment plays a significant role in the pairing of students and players, as a result the selection has attributed to the success of the programme which has been actively supported by the Ministry of Education.
"The Bay of Plenty Steamers players have had to demonstrate a committed work ethic and positive attitude to get where they are. The boys can now share their hard work with these kids which sends a message to these kids no matter what situation you are in at home there is always a way to achieve your goals.
"The results we have received from this programme have been overwhelming, in particular one of the students was identified as a bully within the school, and over a short period of time working with Lalakai Foketi he has had a change of attitude. Not only has his view on bullying changed but his view of his peers," Aaifou-Olive.
The programme is set to kick off again in term four following the conclusion of the Mitre 10 Cup Campaign and is set to expand with additional players being added to assist with the programmes delivery.
Bay of Plenty Steamers Involved:
Lalakai Foketi – Papamoa High School
Jesse Parete – Te Puke High School
Terrence Hepetema – Tauranga Boys College
James Lay – Welcome Bay School
Jordan Lay – Gate Pa School
Liam Steele – Maungatapu School
Monty Ioane – Greenpark Primary School
Solomona Sakalia – Otumoetai College