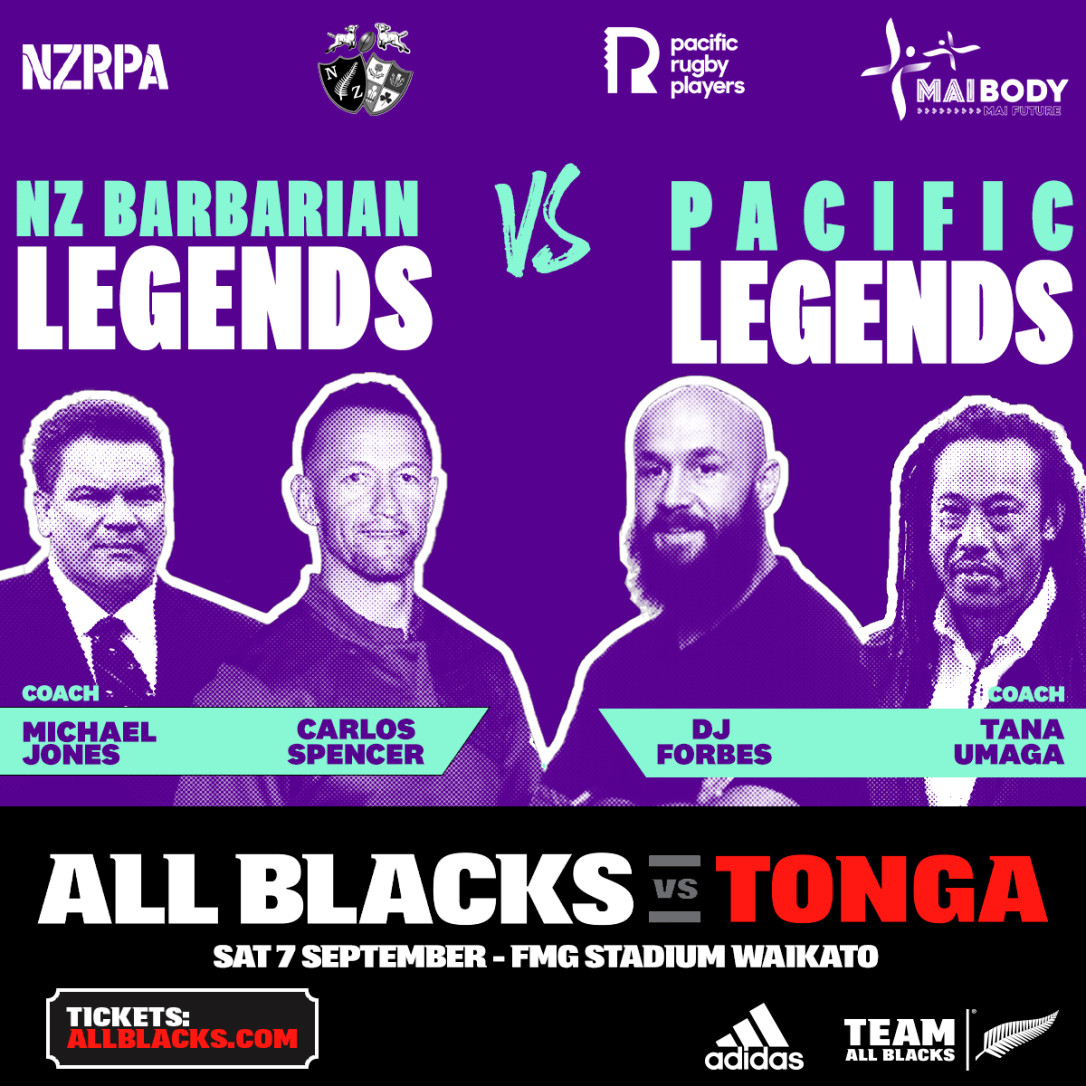 A star-studded line-up of mates will join forces on the field and reconnect off it in a bid to raise awareness of diabetes and obesity in Maori and Pacific Islanders when the NZ Barbarian Legends take on the Pacific Legends in Hamilton on Saturday 7 September.
The highly anticipated spectacle will see 11 former All Blacks and multiple past New Zealand internationals take the field against an outstanding team of ex-Pacific internationals in the curtain raiser to the All Blacks v Tonga match at 12.10pm at FMG Waikato Stadium.
NZ Barbarian Legends coach Sir Michael Jones has named an impressive and entertaining side but knows there might be some changes in preferred positions as the players are not in their twenties anymore.
When approached about taking part, the rolling subs was highly appealing to the players who were relieved at the prospect of shorter bursts on the field.
Sir Michael has assembled a team that is passionate about the cause and he believes their enthusiasm to take on Tana Umaga and DJ Forbes's men will be obvious from their impact on the field. "Our aim is to lead the way for our people to make their health a priority and also to put on an entertaining display of rugby and I know these men still have plenty of skill as class never goes away," he said.
NZ Barbarians' captain Carlos Spencer said, "There has been plenty of ruthless banter going around the teams, which has been great fun, but all the boys know that behind the fun is serious messaging, which is we need to reduce diabetes and heart disease."
With alarming diabetes and obesity statistics, the message for the event is to encourage people to make a difference by keeping their weight at a healthy level through keeping active and reducing their sugar intake by watching what they eat.
One of the event organisers, former All Black and New Zealand Rugby Players' Association Player Services Manager, Kevin Senio said, "Hopefully by connecting more with our friends by doing twenty to thirty minutes of daily activity with others, it can make a real change. We also want this match to be a catalyst for our players to make adjustments towards better health and to lead the way for our communities."
League legends Monty Betham, Ruben Wiki and Wairangi Koopu will turn their hands to rugby in what is expected to be a highly physical encounter. They will be joined by Welsh international and double World Cup player Sonny Parker, who will make his return to play on New Zealand soil after spending 20 years playing in the United Kingdom.
Corey Flynn will make his return alongside his former Crusaders 2006 championship-winning teammates Rico Gear, Johnny Leo'o, Kevin Senio, Tone Kopelani and Cameron McInytre.
Two Commonwealth Games gold medallists will take the field with DJ Forbes and Sherwin Stowers both still expected to deliver with their fancy footwork.
Both sides will assemble on Friday night at Ponsonby Rugby Club for a captains' run and a fun Quick Rip exhibition game with some local rugby kids.
The event has been supported by Pacific Rugby Players and their MaiBody, MaiFuture campaign, South Seas Healthcare, The Fono, Anytime Fitness NZ, New Zealand Rugby Players' Association, the NZ Barbarians Club and New Zealand Rugby.
New Zealand Barbarian Legends team in alphabetical order: *
Mana Ashford – NZ Sevens, Auckland Sevens
Monty Betham – (league) New Zealand and Samoa, Warriors
Jason Chandler – Blues, Auckland, Manawatu, Bay of Plenty, overseas
Loki Crichton – Samoa, Chiefs, Counties Manukau, Waikato, overseas
Dave Dillon – current Kobe Steelers head coach, Waikato, Bay of Plenty, Thames Valley
Rhys Duggan – All Blacks, NZ Maori, Chiefs, Hurricanes, Highlanders, BOP, Waikato
Ross Filipo – All Blacks & Junior ABs, NZ Maori, Crusaders, Chiefs, Hawke's Bay, Wellington, overseas
Troy Flavell – All Blacks, Blues, Auckland, North Harbour, overseas
Corey Flynn – All Blacks, NZ Maori, Crusaders, Canterbury, Southland, West Coast, overseas
Rico Gear – All Blacks, Junior ABs, NZ Maori, NZ Colts, NZ Barbarians, Barbarians, Blues, Highlanders, Crusaders, Canterbury, Tasman, Auckland, BOP, Nth Harbour, Nelson Bays, Poverty Bay, overseas
Craig Glendinning – NZ Maori, Samoa, Counties Manukau, Northland, Southland, overseas
Jarod Hoeata – All Blacks, NZ Sevens, NZ Maori, Highlanders, Chiefs, Taranaki, Nth Harbour, Canterbury, overseas
Tony Koonwaiyou – NZ Sevens, Crusaders, Southland, Northland, Auckland,
Tone Kopelani – Junior ABs, Hurricanes, Crusaders, Northland, Wellington, Canterbury, overseas,
Wairangi Koopu (league) – New Zealand, NZ Maori, Warriors, overseas
Johnny Leo'o – NZ Sevens, Junior ABs, Crusaders, Canterbury, BOP, overseas
Slade McFarlane – NZ Maori, NZ Colts, NZ U19s, Blues, Chiefs, Crusaders, Nth Harbour, overseas
Cameron McIntyre – Crusaders, Highlanders, Canterbury, overseas
Matt Mustchin – Crusaders, Scotland, overseas
Sonny Parker – Wales, NZ Maori Colts, overseas
Matua Parkinson – NZ Maori, NZ Sevens, North Harbour, BOP
Kevin Senio – All Blacks, NZ Sevens, Manu Samoa Sevens, Crusaders, Chiefs, Canterbury, Counties Manukau, BOP, Auckland, overseas
Chris Smylie – NZ Sevens, NZ Maori, Hurricanes, Highlanders, North Harbour
Carlos Spencer – All Blacks, NZ Maori & U21s & NZ Barbarians, NZ A, Barbarians, Blues, Auckland, Horowhenua-Kapiti, overseas
Sherwin Stowers – NZ Sevens, Blues, Counties Manukau
Niva Ta'auso –Junior ABs, Highlanders, Chiefs, Counties Manukau, overseas
Rua Tipoki – NZ Maori, Crusaders, Highlanders, Blues, BOP, North Harbour, East Coast, overseas
Ofisa Tonu'u – All Blacks, Samoa (rugby & cricket), Blues, Hurricanes, Auckland, Wellington, overseas
Tane Tu'ipolotu – NZ U19s, 21s, Pacific Islanders, Hurricanes, Chiefs, Manawatu, Auckland, Wellington, overseas
Scott Waldrom – All Blacks, NZ Sevens, NZ Maori, NZ Barbarians, Chiefs, Hurricanes, Crusaders, Taranaki, Wellington
Ruben Wiki ONZM (league) – New Zealand, Warriors, NZ Maori, overseas
*Teams not limited to this list

Coach: Sir Michael Jones
Team Support: Mils Muliaina
Team Support: Eroni Clarke
Team Doctor: Jeremy Stanley