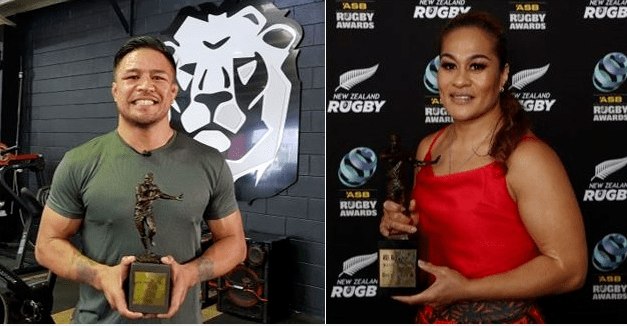 Two of the most respected and highly capped people to play rugby, Fiao'o Fa'amausili and Keven Mealamu, have been honoured by their peers for their outstanding contribution to their fellow players on and off the field, by becoming the latest recipients of the New Zealand Rugby Players' Association's Kirk Award.
The 2017 recipient of the award, DJ Forbes presented the Black Ferns captain with her award at the ASB New Zealand Rugby Awards last night in Auckland, whilst Keven Mealamu, who was unable to attend the event, accepted his award via video link.
A surprised Fa'amausili, who has been involved in a time of significant change for the game and has represented the Black Ferns and Auckland Storm said, "This is a huge honour.
"David Kirk was my first memory of a rugby player holding a trophy, so to win such a prestigious award with his name on it is incredibly special, and to win this award with such a legend of the sport like Keven is very humbling.
"I would like to thank my family, friends and all the teams I have played in. I would also like to thank Rob Nichol and the team at the NZRPA, who have been very supportive and are a strong voice for players and women's rugby. I love the game and will continue to support the players and the game anyway I can, and am extremely grateful to the players for this award."
NZRPA Chairman David Kirk MBE, after whom the award is named, said: "Fiao'o and Keven are two incredible people who have made and continue to make phenomenal contributions to our members, their communities and the game, so it is fitting that they are both this year's recipients."
Fa'aumausili is highly respected for her leadership, motivation and determination and the Auckland centurion has fostered an impressive off-field career in the New Zealand Police, whilst training, playing and redefining what is possible at the highest level of the game.
New Zealand's most internationally capped female, Fa'amausili was made an Officer of the New Zealand Order of Merit in the 2018 Queen's Birthday honours for services to rugby. She has attended five Rugby World Cups and she has been part of four Rugby World Cup winning teams, captaining the side for two of those. She has also been awarded the New Zealand Police Association Sportsperson of the Year three times.
A proud Samoan of strong faith, Fa'amausili continues to show great commitment to her community and her family, who she credits as being her biggest supporters.
Fa'amausili's brother, Tavita who attended the ASB Rugby Awards with his partner said of his sister: "She has always been sporty, so we knew she would go far. She has always had a strength of conviction, which has held her in good stead for achieving her goals, and all of our wider family and friends have all taken great joy in following her inspirational journey. On behalf of her seven siblings, our mum and late father, we are all so incredibly proud of her and I know this award has made Mum shed a few more tears of pride."
One of her long-standing Auckland Storm team mates who also played alongside her in the Black Ferns, Karina Stowers said, "Fi is full of adventure. She is highly motivated, leads by example and just wants the best out of everyone.
"She is a very giving person, with both her time and knowledge, and she never expects anything back in return. She is a true role model and a wonderful friend, who never forgets where she came from and is always proud to represent the Fa'amausili family."
The other Kirk Award recipient Keven Mealamu was part of two successful Rugby World Cup campaigns and is the second highest capped Super Rugby player of all time. He was also awarded the New Zealand Order of Merit for services to rugby in 2016. Mealamu said, "I am very humble to receive this award. Could I thank David Kirk, the NZRPA and my fellow team-mates and players for selecting me for this. This is our way of being able to give back to the game we love. I also want to thank my wonderful wife Tai and my family their support."
Mealamu also took time to congratulated Fiao'o on her award saying, "To my fellow sis Fi, congratulations on receiving your award. It is well deserved."
All Blacks captain Kieran Read congratulated both players on their awards and commented on his former All Blacks team-mate saying: "Keven is a down-to-earth, humble bloke. He will always put others in front of himself, so is really true in the team enviorment and will always be there to look after you if you need a hand or someone to talk to. He is highly respected. When he talks everyone listens and he has huge mana, so I am rapt that these two special people have been recognised by their fellow players."
Keven started working on building up a business towards the end of his playing days and now runs a successful gym in South Auckland called Fit60. He also plays an active role in governance, serving on the Auckland Rugby and Drug Free Sport boards, and he was also part of the NZR Respect and Responsibility Review Panel.
The rugby ambassador and skilled artist has illustrated multiple children's books for the Starship Foundation with the help of one of the game's great supporters, Barfoot and Thompson, and has also served as an ambassador for the foundation. Keven also runs empowering leadership programmes in New Zealand and overseas.
Speaking on behalf of the Mealamu family, Keven's brother Luke said: "We are overwhelmed at Keven receiving this award from the players. His merits speak for themselves. He has so much time for people, which is a special part of his character."
Keven's proud mum Tise acknowledged her son's commitment to his family, culture, faith and people, saying, "He does big things in a very quiet way. He gets out there in the community and just does his thing."
New Zealand Rugby Players' Association CEO Rob Nichol said "We are very lucky in our game to have such passionate people who care about other players during and beyond their playing days. The leadership that Fi and Kev have showed during their time playing and the commitment that they continue to show in order to constantly inspire and help other players is first-class."
ENDS
Award history: The NZRPA Kirk Award was established in 2005 and named after NZRPA founding chairman and former All Black captain David Kirk MBE. Kirk, a medical doctor, Rhodes Scholar and former parliamentary advisor, led the All Blacks to their first Rugby World Cup title in 1987.
Previous recipients include Conrad Smith, Richie McCaw and Tana Umaga, in recognition of their off-field roles in helping establish the commercial and employment partnership between the players and the game's administrators, which has underpinned the professional rugby environment and achievements ever since.
The 2016 recipient was former long-serving NZRPA Board Member, Super Rugby centurion and Northland stalwart Justin Collins, and last year's winner was the most-capped player in world Sevens' rugby history DJ Forbes, who was an extremely valuable conduit and voice for the players both throughout his career and since his retirement.
David Kirk biography: Former All Black, David Kirk, captained the All Blacks to their first Rugby World Cup title in 1987. A medical doctor, Rhodes Scholar and former advisor to the Prime Minister, David was awarded an MBE for services to rugby in 1988. The former Fairfax Media CEO and chairman of TradeMe, Kathmandu and Forsyth Barr, sits on several boards, is a trustee of several charities and is the co-founder and partner of Bailador Investment Management. The author of two books, David was inducted into the World Rugby Hall of Fame in 2011. Unbeknownst to many, David has served as the Chairman of the New Zealand Rugby Players' Association since its establishment in 1999, and this award is named in recognition of his outstanding selfless contribution and leadership in this regard.