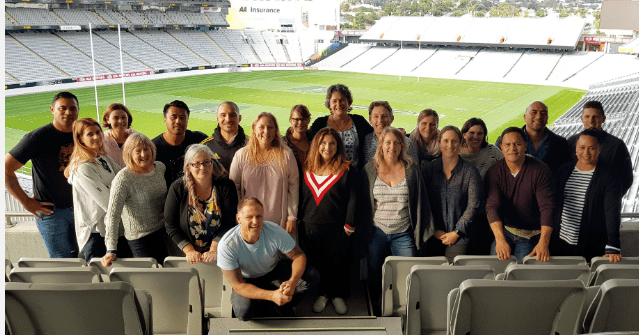 Personal Development Managers (PDMs) from around New Zealand gathered in Auckland for their bi-annual conference focusing on their role supporting player's off field life.
The first day of the two-day conference held at Eden Park involved the player Accredited Agents combining with PDM's for a panel and workshop session. This was followed by Guest Speaker Pio Terei delivering an entertaining address about connecting with youth. His highly practical and humorous presentation where he shared many of his own personal experiences resonated well with the audience.
Conference organiser and National Personal Development Programme Manager Emily Downes said "The PDM conference is a highly valuable time for everyone to learn, connect and share ideas. It always has a great energy because everyone is so committed to how we can best serve the players to foster growth and development off the field."
With the newly introduced Women's High-Performance Programme throughout the country, a strong focus of the conference was engaging female players. A panel including former Black Ferns, All Blacks and Crusaders Doctor Deb Robinson, Black Ferns Sevens Assistant coach Cory Sweeney, former Olympic Black Sticks Pippa Hayward and PDM Jason McKenzie offered great insight into the differences of working with female athletes and their needs.
Former Black Fern Rochelle Martin who has been working for Fire and Emergency for 18 years delivered a careers session on opportunities within the organisation. She and her colleague Talite Liava'a, a former Warriors and Tongan international league player highlighted the transferable skills for athletes going into this sector of employment.
In the later part of the second day, Suran Dickson from Flip Side ran a Diversity and Inclusion workshop before PDM's broke out into groups for regional discussions.
Dr Nathan Price, the NZR Education & Wellbeing Manager echoed Downes' comments saying "PDM's key role is to develop players outside of rugby, so having all the PDM's together is a great opportunity to also develop our PDM's so they can continue to provide high quality support in a constantly changing environment."
Personal Development service awards were presented to Jason McKenzie from Southland who has served his region for 13 years, Jo Moore from Auckland, Fiona Brading formerly of North Harbour and now the NZRPA overseas and past players PDM and Kylie Devlin-Sousa from Counties Manukau who have all worked in their area's for over five years.
The PDM's will meet again in November.