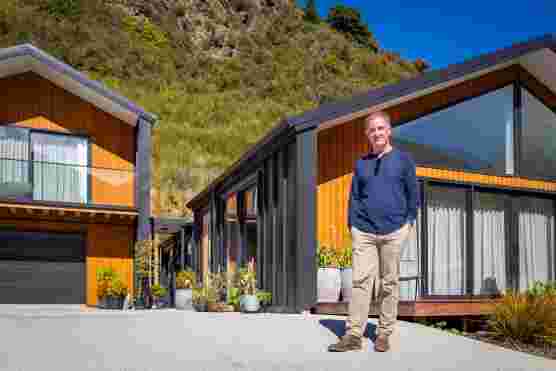 Growing your wealth beyond your playing days

He might have captained the All Blacks to their highest ever test score (145–17 versus Japan at the 1995 World Cup in South Africa), played in two Rugby World Cups and racked up 25 matches at no. 7 for the All Blacks between 1989 and1995, but even more impressive is what Paul Henderson has achieved in his post-rugby career.
As part of his retirement cashflow strategy, the father of three and former Highlander, Southland and Otago representative has traded over 300 properties all over New Zealand, owned a mortgage broking company and been involved in property management. On top of that, he now has two new, customer-focused business ventures.
Along the way, Henderson has learned some tricks of the trade the hard way, which he feels are worthy of sharing with fellow players in the hope that he can save them from a few tough lessons. "I believe what I have achieved is possible for others. It is just about education around property, whether that is as an owner/occupier, investor or property trader," says Paul.
Paul's top tips for property and investments
Understanding the process and minimising risk is the most important factor to understand. In order to minimise property risk:
· use trusted professionals every step of the way.
· be aware that there will be many salespeople giving presentations, and legal and accountancy professionals that you will encounter. They are service providers to the property industry, so generally not the entrepreneurs. Learn from those who are successful and know the entire process and can back it up with facts and results.
· do your homework on what people tell you. Don't believe anything until you see the legal proof in writing.
· understand how to protect yourself while also factoring in market movement.
· look at the figures with independent, trusted, unbiased professionals. This will help you work out where the profit and cash flows, so you have an advance idea of what you can expect. Independent and unbiased professionals are important because, as they don't stand to gain anything from your decisions, their advice will be genuine.
It all started for Paul when he bought his first investment property while playing rugby in Invercargill: "I made just about every mistake on that property as a first-time investor. I didn't even know I was making mistakes."
But as most rugby players know, learning from your mistakes is the key to improvement, so he sought advice from people who knew the business. "However, once I had the education from my mentors, I soon learned what to do and where. I began to understand that the whole property game can be completely different with knowledge and education.
"They taught me a lot about tax and, most importantly, about minimising risk in property as well as showing me the methodology to do it smarter. As they were super experienced, so I tapped into their knowledge. The crucial thing was that I sought information in the property market, and that empowered me hugely to take action."
Paul already owned a deer farm just out of Invercargill. He then purchased a property in Arrowtown assisted by his first professional-rugby pay cheques. "We sold the farm first as the return was not that sharp. I purchased a quarter-acre section in Arrowtown with others and that was a better deal. Soon after that, I met my 'mentors in property', which was very lucky for me.
"The next step with all the mentoring was really the start of the serious side of making money out of property for my new business partner and I. We rolled up to Auckland CBD and put a contract down on thirty properties in an advance way of purchasing, which eliminated most of the risk for us.
"It was so successful that we did it again at the Airport Gateways in Memorial Ave in Christchurch, then at Whangamata, Albany and Grafton, which is near top schools in Auckland. We just kept highlighting growth areas.
"Most of my clients who bought properties from me had a cash guarantee of rental returns for one or two years.
"My company placed $5,000 to $10,000 of our sale profit in a solicitors' trust fund that we could not access but the client could. This was as a top-up for my clients if the rental market dropped or to cover any vacancies. It was a unique approach and it showed my company's moral values while offering risk minimisation for clients who'd purchased properties from us.
"To this day I have not seen this concept used in New Zealand where sellers look after the purchasers' risk by holding the cash for the clients' benefit or security," Paul says.
"I have found, for me personally and those I have helped, the most successful way is to capture the developer margin in a hands-off manner, which means you become a mini developer.
"We have a model for this for our customers, which outlines profit before we start. This means you capture that financial benefit and you become a property developer but using experts in their field. You are not the builder, you are not a real estate agent, you are not the contractors, you are simply the person funding the process who will make the money.
"It is important that you get all the data and all the facts and figures before you make any decisions, which is what my company does."
Paul has helped fellow players by educating them on this process. Former Highlanders, Southland and Wellington player Lima Sopoaga is one such person who has valued the education Paul has provided: "I quickly realised that buying property at a retail price only profited others. I found Paul's model on being a mini-developer, which created greater options, really powerful for me and my family's future."
Lima went on to say, "It can be tough to figure out who to trust as, once people know you have played rugby, they think you have money and want a slice of it, so finding genuine, knowledgeable, trusted mentors is crucial.
"Paul has been great educating me and helping me grow my knowledge and skill base while helping me navigate this new area of property development. His advice and method have been critical to both my success and my ability to understand how to work on my retirement cashflow."
Henderson strongly advises that information is the key for accelerated success: "Property is such a large part in everyone's financial decisions and outcomes – be it as an owner/occupier, an investor or a trader in properties.
"Mentors changed my understanding of the possibilities and changed my financial future after rugby, and I simply just want to pass on information to a group that is close to my heart to help them post-rugby too."
Paul is happy to chat in person one-on-one or with groups of players interested in picking his brain, to ask him questions about property.
If you want to get in touch with him, please contact Mark Ranby, The Rugby Network Manager, to get his details. (mark.ranby@nzrpa.co.nz or 021 1742 777)