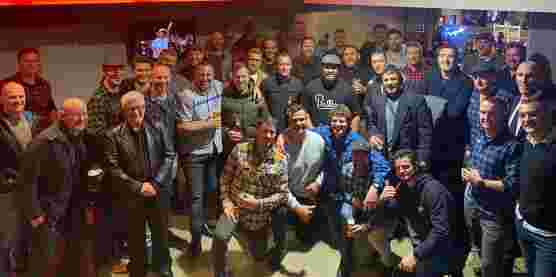 Highlanders Alumni Reunite
Nearly 50 former Highlanders gathered on Saturday at Joe's Garage in Dunedin to reminisce and reconnect as part of the Highlanders Alumni gathering for 2020.
The past players and management gathering was moved due to Covid restrictions from watching the Highlanders v Hurricanes match live at Forsyth Barr Stadium to watching the game on SKY TV. However, the event under Covid protocols was still able to provide plenty of laughter and enjoyment as they celebrated the camaraderie that a rugby family offers while cheering on the Highlanders' and this year's co-captains as they notched up significant milestones - Aaron Smith reaching 150 games for the club and Ash Dixon reaching 100 super rugby appearances.
Iconic presentations were made for length of service to the Highlanders. The gesture was greatly appreciated by the seven recipients that included former Highlanders captain Jamie MacKintsosh, the new Samoan international coach -Seilala Mapusua, Tom Donnelly, Kelvin Middleton, Chris King, Richard Buckman and Simon Maling.
"It was just a great opportunity to come together and celebrate the last 24 years that the Highlanders have been operating. Especially connecting the generations from some of the original 1996 players, through to recently retired players, all under the same roof was really special," stated Highlander #63 and one of the organising team, Neil Brew.
To join the Highlanders Alumni which is open to all past Highlanders players and management please contact John Blaikie or Neil Brew on alumni.highlanders@gmail.com