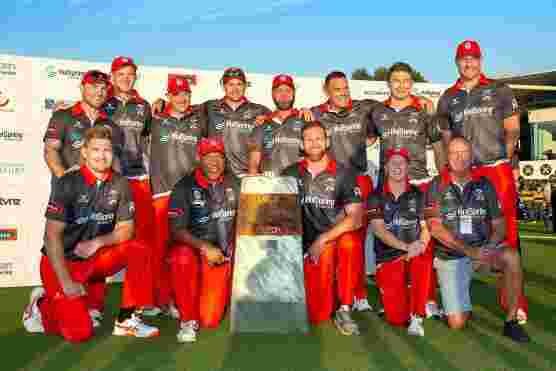 Hot Springs Spas T20 Black Clash heads to Tauranga
Combine Kieran Read, Will Jordan, Sir Graham Henry, Stephen Fleming, Shane Bond and Grant Elliott together in one place and you get New Zealand's favourite event - the Hot Spring Spas T20 Black Clash in association with Heartland – Cricket vs Rugby - back for its fourth annual edition.
For the first time, the event will be hosted at Tauranga's iconic Bay Oval, on Saturday 22 January.
With a sold-out event at Hagley Oval in Christchurch earlier this year and a record breaking audience of 1,057,000 Kiwis tuning into TVNZ 1 to watch Stephen Fleming's Team Cricket taking on Sir Graham Henry's star-studded Team Rugby in a code clash T20 cricket match, Team Cricket took the win in a nail biting final over which saw former Black Caps star Dan Vettori take three wickets.
With the series poised with Cricket winning two games to Rugby's one, returning to play for Henry's Team Rugby after his stint playing rugby in Japan is former All Blacks Captain Kieran Read. Read was a very handy cricketer in his younger days, representing New Zealand, Northern Districts and Counties at U17 level. Captain of his team at the inaugural 2019 Black Clash event, he led his team to a surprise first up win, taking a stunning catch to dismiss former Black Cap Nathan Astle.
"When Ted's (Graham Henry's) number comes up on your phone you want to take the call. And to be honest I was stoked to be called back to the team after missing the last two years whilst playing rugby in Japan. Team Rugby suffered two narrow losses after our first up win, so the boys will be pretty motivated to get back in the winner's circle. I can't wait, it's a fun few days and I'm looking forward to getting back into the nets and hopefully scoring some runs at the iconic Bay Oval against some of my childhood cricketing heroes. We have a score to settle!" said Read.
Read's team-mate in the upcoming match, Crusaders and All Blacks star Will Jordan, caused Team Cricket's coach Stephen Fleming to sit up and take notice after scoring an elegant 49 runs from 29 balls at Hagley Oval this year.
"Will Jordan was a bit of a superstar wasn't he? Team Rugby has some great talent and it was fantastic to see them push us to the last ball again this year. It was coming down to the wire, so to pass the ball to Dan (Vettori) and have him take three wickets off the last over for the win was a delight to see. All the boys love playing in the Black Clash, so I have a job ahead of me on my selection sheet!"
First players announced for Fleming's Team Cricket side is 2015 World Cup hero Grant Elliott and new to the Black Clash in 2022 will be former Black Caps star fast right arm bowler Shane Bond. Bond is considered one of New Zealand's all-time great fast bowler's, so his presence is sure to create some fear in Team Rugby's batsman.
More players will be announced in the coming weeks.
Duco Events Founder and Director David Higgins, whose company produces the T20 Black Clash is excited to be taking the Black Clash to a new North Island venue.
"The beauty of the Black Clash is the mix of current and former cricket and rugby stars coming together and competing as if their lives depended on it in a true spectacle for the fans. Having the opportunity to run this event in various venues around New Zealand means that the entertainment is shared around the country, giving kids and fans the opportunity to get up close to stars of old and new and to see just how well their rugby heroes can compete with New Zealand's best with the round ball, " said Higgins.
"Bay Oval is a beautiful venue and the fans have called for us to take the event there and that is what we are doing. The atmosphere at the ground will be electric and we know the crowd and the players will love it!"
Higgins wanted to acknowledge the support of the 2022 event sponsors Hot Spring Spas, Heartland, Tauranga City Council, Ford, DB Breweries, Radio Hauraki, Trinity Wharf Tauranga, Paladin, Kookaburra, Trinity Hill, Soar Print and Paramount Hire.
"Without the support of our sponsors, Hot Spring Spas, Heartland and our host city Tauranga in particular, the event isn't going to be possible. We are most grateful for all the support of all of our partners, of TVNZ as our broadcast partner, the players – who are a genuinely great bunch of people and the New Zealand Rugby and New Zealand Cricket Players Association who work closely with us to deliver this event," Higgins said.
Nelita Byrne, Manager: Venues and Events, Tauranga City Council said they are very happy the Hot Spring Spas T20 Black Clash in association with Heartland will be played in Tauranga in January 2022.
"One of the core objectives in bringing major events to Tauranga Moana is showcasing our city to a wide audience and the Black Clash has been proven to deliver this with its large broadcast numbers. We are delighted to be hosting Black Clash and for both locals and visitors to access such a spectacular event at an incredible location, Bay Oval. It's events like these that add to the vibrancy and economic growth of the city while showcasing all that the Bay of Plenty has to offer."
Hot Spring Spas T20 Tauranga Black Clash Saturday 22 January, Bay Oval, Tauranga Tickets on sale now www.blackclash.co.nz: