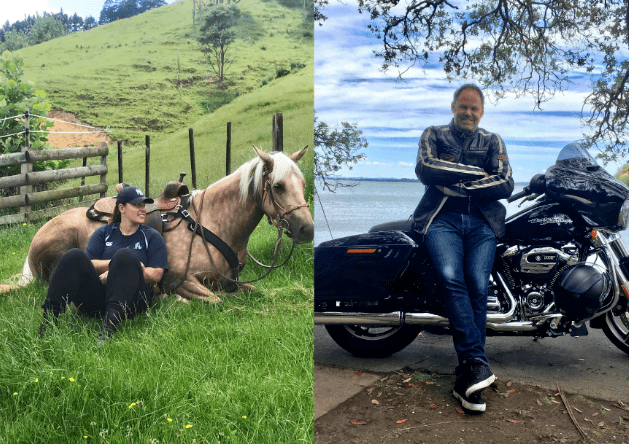 In part two of our series about players working on the other side of the medical table, we talk to former All Black and physiotherapist Josh Kronfeld, and sexual health nurse and Black Fern Aleisha-Pearl Nelson.
Soon after completing his first four-year degree – a Bachelor of Physical Education at the University of Otago – Josh Kronfeld realised that he just wasn't meant to be a teacher.
The former All Blacks, Highlanders, Otago and Leicester flanker said: "I had spent so much time doing leadership and motivational speaking at the tail end of my career and post-career with kids from all walks of life. These kids were curious and attentive to be involved in self-growth. It made it apparent that teaching wasn't for me when in the school classroom. I just didn't like the way the kids could speak to you without repercussions for their actions or were not keen or excited by the process of learning, especially when I felt I had a lot to offer in life skills development."
Josh knew he needed to find something else that would be more appealing to him. Having experienced an encyclopaedia of injuries including: a left ankle reconstruction; multiple left and right ankle debridements; elbow clean-outs; broken toes and fingers; a broken wrist; rotator cuff tears with sternoclavicular dislocations to both sides; a broken nose and jaw; a labrum tear to his left hip; 500 stiches to his face and head; and multiple skateboarding injuries including rupturing his PCL and MCL and another broken wrist, Josh was surrounded by people who helped others deal with their recovery, which sparked a real interest in him.
"I was motivated by the large amount of time I had spent rehabbing. The professionalism of rehabbing was so different when I was playing to what it is now. Now, it is very hands-on and monitored whereas when I was doing it, it was a bit more self-driven.
"I had been talking to people about my options as either an osteopath or physiotherapist and exploring the different locations where I could study and whether I could cross-credit some of my previous studies," said the father of two.
He finally settled on studying physiotherapy at university in Dunedin, where he enrolled before taking off to get some more travelling under his belt. He then spent a year travelling through north, central and south America in what he describes as an incredible trip.
As the time approached to return to come back to study, he did so reluctantly having enjoyed his adventures far more than he expected to enjoy his study.
Josh still had a house in Dunedin, so when he came back to New Zealand, the tenants moved out and he moved back in. He then got started on his three-year degree. To his relief, he was able to cross-credit some of his previous study.
It's fair to say that times – and his attitude – had changed between Josh's first and second degree. "I had to learn how to use a computer. My last assignment in my first degree had to be typed. I used to take it to the lady at the Otago Rugby Union to type it. I was slow at typing so I had to get help. By the end of university in my second degree, I had nailed the one-finger typing!
"Life skills, my experience and the fact that I had learned about achieving balance helped me to get better marks in my second degree. I didn't stress as much and made sure that I had time out and switched off, which, for me, was when I went surfing.
"I also understood about networks and mentors and surrounding yourself with people who could help you. So, I used this concept when I set up my study groups, which in turn made things way easier outside of study because I wasn't under pressure as I was organised and had plans in place for my workload. Young people find that challenging.
"If people were doing things well, I would ask them questions. I was never worried about looking like a fool, I just wanted to learn from best and surround myself with good people – and some of them were students still."
The 48-year-old, who works for the Prime television show The Crowd Goes Wild in addition to his charity work for Race4Life, Cancer Kids and Koru Care, spends a few days a week working at Eden Physiotherapy in his current hometown of Auckland.
Josh claims the best part of his job is when you form solid relationships with repeat clients, who trust you to help them, and those clients who you can fix in relatively few treatments, which gives them great relief.
However, he has also learned that there is so much more to being a physiotherapist than just working with patients. "You have to deal with ACC and there is a lot of personal development," he says.
There are many other things that Josh had to get a firm understanding on in his role on the other side of the medical table. "I have had to learn that pain is very subjective and is determined by how that person perceives pain. You have to be open to other people's perceptions. You are constantly learning how to deal with people, and it is a real mental side for people. I am more aware of the mental side of things and obviously now mental health, which can play a big part in people's recovery."
Josh believes his is a great profession. "It has massive avenues for people to dive into specialist care." And despite his variety of roles as Dad, television presenter and charity worker, he says of his work as a physiotherapist: "When I am in it, I am fully focused."
Kronfeld, who has always been quite artistic, says life is busy with his boys, but he is looking forward to getting back into his music, including playing in bands, and into painting and drawing. He knows his artistic ways are fulfilling for him so is keen to make time to foster his creativity again.
He also has some advice that he wants to share with fellow players: live with the passion and use that as your driver. Also have the ability to hear what other people say even if it is a criticism. "You hear what is said, take it away and hear what is relative to you, and I can guarantee it will make you a better player. You don't have to take everything as gospel, but break it down and take what is relative. It is hard skill. Most people just hear the negative without the true message and sometimes the opposite they just the positive without the learnings."
When people find out Black Ferns tighthead prop Aleisha-Pearl Nelson is a sexual health nurse, they are usually fascinated by it – once they get over the initial shock that she is a nurse who plays rugby.
Aleisha-Pearl has been part of the Black Ferns since 2012, the same year she graduated from her nursing studies at Auckland University of Technology. Her mum is also a nurse so she's following in her footsteps.
The 2017 World Cup-winning squad member started playing representative rugby for the Auckland Storm as an 18-year-old. She balanced study, playing rugby and league during the three years she spent studying nursing. She also played club rugby for College Rifles, where Josh Kronfeld was helping coach her team.
She tributes rugby with helping to improve her time-management, prioritising and decision-making skills: "In rugby you study by reviewing and planning, you work on your strengths, weaknesses and goals, and focus on positional training. These are all transferable elements that I have put into my study and now my career. Rugby provides many useful skills that you can use off the field.
"In 2012 I had two clear goals and those were to graduate and make the Blacks Ferns and I achieved both in that year.
"I always knew I had to get a career so I could play rugby. When I started there were no professional options, so you played for the love of the game, but you had to have a job to support your ability to carry on playing.
"After graduating I selected surgical as my area of focus, but finding a job was the hardest part. Not many people would give me time off work to play rugby, so I originally worked in a rest home up north to get some experience, which everyone was asking for in roles. The people there were lovely, and they really got behind my games and would get up in the middle of the night to watch the games while I was overseas which was special.
"I then worked for a nursing bureau in Auckland doing relief nursing, so I could fit in all my trainings. I had always been interested in women's health and sexual health so found a job in that area in Auckland.
"The best part of my job is helping vulnerable people. I didn't want people to be looked down upon or judged. I wanted them to receive empathy, kindness and a non-judgemental health resolution.
"People just think of sexually transmitted diseases when it comes to sexual health, however there are so many more avenues to the role, which includes education or prehab, contraception, advice, pregnancies and illnesses," says Aleisha-Pearl.
The hardest part of her highly rewarding job is when clients have a traumatic back story and there is a lot of emotion attached to it. Such is the extend of the emotional investment in her role, that supervision, a form of counselling to ensure the mental wellness of the nurses, is provided.
Learning boundaries and that you cannot take problems home with you are skills that Aleisha has learned in her seven years of nursing. "It is not always easy to leave it at work, but it is something that you need to do otherwise you get too emotionally involved," said the 29-year-old.
She also believes that nursing can be quite accommodating of a sporting career if you work for a bureau or if you get the right environment. It is highly rewarding and something she would recommend to any players.
Her advice to fellow players is to do what you love and get an education. "I didn't even finish school and I manged to get a degree, so there is always a way if you really want it. I left school at sixteen, did a sports course, then went back to study again. It is great to have a back-up plan."
Aleisha-Pearl believes that working on the other side of the medical table has made her more nervous as a patient because she is so used to being the one that cares for people. "You definitely have a huge respect for people going through the health system."
She knows this first-hand, as she has had her fair share of exposure to the health system from a young age. A horse-riding injury, when she ripped the side of her leg off on a metal beam in a paddock on her family farm when she was 13 years old, resulted in her having a massive skin graft. Coincidentally, former All Black Jeremey Stanley was one of the doctors who helped treat at Starship Hospital. (See part one of this series for Jeremy's story at www.nzpra.co.nz.)
The accident resulted in some life changes. The chlorine in the town supply water would cause her wound to form blisters and even though she'd been playing rugby since she was four, her future in the game was in serious doubt. However, with the true gritty nature that Aleisha-Pearl inherited from her grandmother Olga-Pearl, she proved everyone wrong and rehabbed her way back to the field, but it would be a road she would travel multiple times.
In 2016, she broke her arm in another horse-riding accident and was once again told that her rugby career was over. She was having none of that and rehabbed her way back into the 2017 Rugby World Cup-winning squad.
After the Rugby World Cup, her skin graft got infected and she got an abscess from a ruck mark, which required more surgery. The injury took the proud Northlander a long time to heal from.
She believes it is true that doctors and nurses make the worst patients: "You question everything and probably frustrate the staff and sometimes it puts them on edge because they know what you do for a living. A little bit of knowledge is the worst thing – listen to the professionals," she recommends.
"I have a great physiotherapist, so I go there quite a bit," she says laughing. Then she admits that she loves playing jokes on the medical staff by telling them it hurts when they're taking blood samples, when in fact, she can't feel a thing.
Early in 2018, Aleisha-Pearl broke her foot, however she didn't realise it was broken until five weeks later, despite playing on it. She had put herself in a moonboot as a precaution, which in hindsight she says was a good decision. She then went into camp with the Black Ferns but it was still sore. An MRI revealed she had broken a cuneiform bone in her left foot.
With the injuries behind her and having just come off a successful campaign against Australia, Aleisha-Pearl is focused on maintaining her place in the Black Ferns, working hard in her nursing career and living by her motto, which she describes as common but so true: "Hard work beats talent if talent doesn't work hard."
There are many other players working in the medical profession across a variety of rugby competitions, including Farrah Palmer Cup's Lucy Anderson from Canterbury, who is an occupational therapist at Christchurch Hospital, and former Auckland Storm and current Counties Manukau player Rebecca Burch, who is a physiotherapist at J Marr's Physiotherapy in Drury, South Auckland. There are also several male academy players studying nursing.
There are other past players who work in the medical industry including former dual international Black Fern and touch rugby representative, Teresa Te Tamaki. As well as being a physiotherapist for the Chiefs and Waikato Rugby, she owns her own clinic, Lifestyle Physiotherapy, in Hamilton. She has been a mentor for many other players and provides a number of physiotherapists to rugby teams.
Teresa's former Black Ferns team-mate Victoria Grant has a Bachelor of Health Science majoring in physiotherapy, a Post-graduate Diploma in Maori Health and a Masters in Health Practice, while former Black Fern second-five Anika Tiplady works as a sports medicine doctor in Christchurch.
With their transferable skills, the first-hand knowledge gained from their time in the game and time spent on the other side of the medical table, working in the health profession is an interesting career option for players.
If you wish to find out more about studying for a role in the medical profession or any other career, contact your Provincial Union, Franchise or the NZRPA Overseas and Past Players Personal Development Manager on 0800 PLAYER or contact@nzrpa.co.nz.