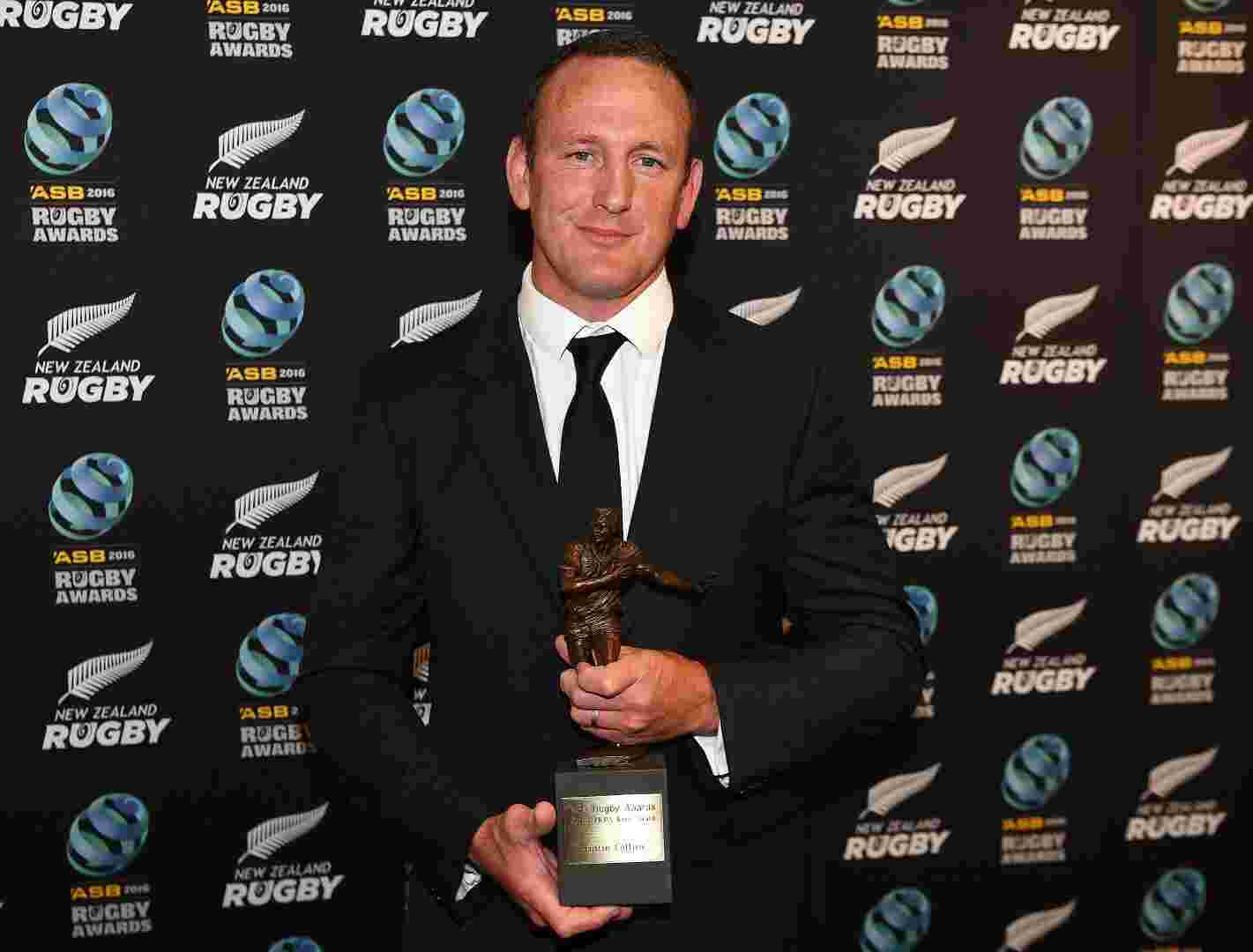 Last night, former long-serving NZRPA board member Justin (Gus) Collins was presented with the New Zealand Rugby Players' Association Kirk Award at the ASB Rugby Awards held in Auckland.
The NZRPA Kirk Medal was presented to Justin by NZRPA founding chairman and former All Black captain David Kirk MBE, whom the award was named after. Kirk, a medical doctor, Rhodes Scholar and former parliamentary advisor led the All Blacks to their first Rugby World Cup title in 1987.
The Award is given in recognition of a player who has made an outstanding contribution on behalf of fellow professional players, and lead by example on and off the field. David Kirk said "Justin epitomises what is great about New Zealand rugby. Players give their all on the field and make contributions as a player, then stay attached to the game to help other young players."
Justin, who was extremely surprised to become the latest recipient of the Kirk Award said: "I am extremely humbled to be presented with the Kirk Award. It has been an absolute pleasure to serve the players. I firmly believe in what the NZRPA stands for and the work they are doing. I'm just happy to have been able to play a part in the growth and the development of the organisation and the services it provides for the players. I also want to pay special tribute to my wife and my family for their ongoing support."
The Northlander characterises what the Players' Association believes in and strives for. He is uniting, inspiring and works hard to create environments that get the best out of himself, and others.
NZRPA CEO Rob Nichol who has worked closely with Justin during his tenure on the board said: "Gus is extremely well respected among his peers for his unheralded support of others, dedication and determination.
"He has been a huge advocate and example for the game, both on and off the field with his achievements and commitment to Rugby in New Zealand, his fellow players and their families."
The 42- year-old is a Super Rugby and Provincial centurion who played his entire professional rugby career in New Zealand, constantly demonstrated the highest levels of self-awareness and responsibility and was an outstanding leader in a training, playing and personal development sense.
He played 104 games of Super Rugby over 10 years for the Blues and the Chiefs, and achieved an impressive 114 matches for Northland. He has been one of the longest serving Board members of the New Zealand Rugby Players' Association, firstly as a player representative and, following his retirement from playing rugby in 2010, as an independent Board Member until earlier in 2016.
Justin expanded his horizons beyond rugby and on his retirement has made a successful transition into a post rugby career working in management at a sawmill. He is hugely family focused and relishes in the lifestyle in his hometown of Whangarei with his wife Justine, and two girls Ruby and Ava.
His wife Justine who was rapt that her husband was recognised for his contributions to the game said "I am very proud of Justin and his achievements. He has dedicated so much time to rugby, his family and anyone who needs him. He is one of life's real hard grafters who never lets anyone down. I know he was just blown away to receive such a prestigious award and to be recognised in this special way is just wonderful."
Award History:
Established in 2005, previous recipients include Conrad Smith, Richie McCaw and Tana Umaga for their off-field roles in helping establish the commercial and employment partnership between the Players and the game's administrators that has underpinned the professional rugby environment and achievements ever since.