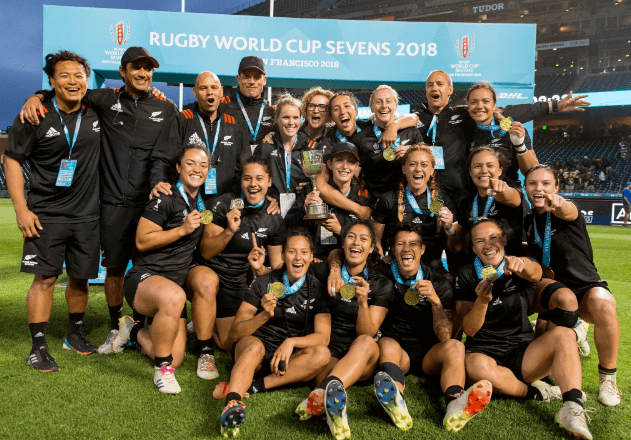 New Zealand's Black Ferns and All Blacks Sevens teams claimed back-to-back Rugby World Sevens titles this weekend when both teams lifted winners' trophies in San Francisco, meaning the country holds the four Rugby World Cups again.
The double victory at the historic AT&T Park, home of the San Francisco Giants baseball team, saw both New Zealand sides go undefeated. It was a repeat of the Commonwealth Games gold medal victories in Australia earlier this year, and it complements the world titles they won in Moscow in 2013.
The intense knockout format meant there was no room to drop any matches, and the Black Ferns responded by winning their first two matches 57–0 and 45–0 against Mexico and Ireland respectively. This set them up for a semi-final against the USA.
The host nation's three tries were the only points scored against the New Zealand side in the tournament, but the Black Ferns won 25–21. The final saw New Zealand defeat France 29-0.
In an impressive team performance, the champions picked up multiple awards with Michaela Blyde being awarded the HSBC Top Try Scorer and the AIG Player of the Final. Captain Sarah Goss picked up the prestigious UL Mark of Excellence Award.
Blyde, Goss and Portia Woodman were also named in the Dream Team for the World Cup.
The All Black Sevens men also picked up several awards with Joe Ravouvou picking up the HSBC Top Try Scorer, the UL Mark of Excellence Award and being named in the Dream Team, while co-captain Scott Curry was awarded the AIG Player of the Final.
In their road to victory the All Black Sevens side defeated France 12–7, Fiji 22–17 and beat England in the final 33–12. This is the third title the New Zealand men's team have won, having won the Rugby World Cup Sevens title previously in 2001 and 2013.