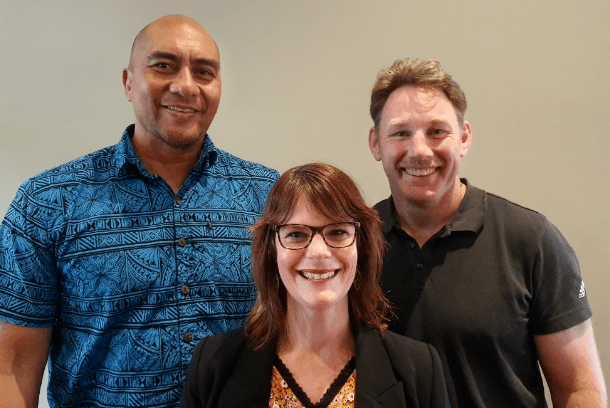 NZRPA increases resources for retired players
Retirement from professional rugby can bring with it a wide raft of experiences and emotions. For some players, it can offer excitement and freedom from the rigid structure of training and obligations of a rugby season, but for others it can also bring a sense of concern and unease as they try to navigate a new and unknown path.
With many players reflecting on retirement from professional rugby or already at that stage, the NZPRA board has made this area one of its priorities. As a result, they have put more resources into this space to help support those players transitioning out of the game and those who have already retired.
This expansion of resources includes providing more support to the NZRPA Rugby Club, which was established to provide a network for retired New Zealand professional rugby players. The Rugby Club team is headed up by Mark Ranby, a former Personal Development Manager and retired player, and Malua Tipi, who is also a Personal Development Manager, educator and former Samoan international. Also complementing the resources available is career specialist Fiona Brading, who provides support to overseas players.
When the NZRPA undertook their first Retired Player Survey, it was evident from the feedback provided by retired professional players that they faced a variety of challenges and also needed support to maximise opportunities as they work through their transition out of the professional rugby environment. This, coupled with the desire to see players manage their changing pathway better, drove the establishment of the NZRPA Rugby Club. The club provides a network through which players can continue to receive support and advice, build beneficial relationships via the NZRPA and enjoy the unique camaraderie that rugby offers, long after their involvement in the professional side of the game has ended.
Mark, Malua and Fiona's goal is to reconnect players with other retired players, and to introduce them to and highlight the services and support they can offer to past players and to those who are working on the next phase of their career.
The wide range of services on offer includes career and educational support (including CVs, interviewing, career and education planning), mental fitness assistance and wellbeing support, networking, goal setting, access to professional support including mental health services, and financial planning and advice.
Over the past few years the NZRPA Rugby Club has held a series of events around the country to help players reconnect. They will look to continue to hold these entertaining and valuable gatherings, which allow players to retain the thriving camaraderie that rugby offers. The NZRPA also works alongside existing alumni around New Zealand, which have been established by Super Rugby Clubs.
Together with the New Zealand Athletes Federation, the NZRPA is undertaking global research on what enables players to have a more successful transition. This information along with other material on personal growth, dealing with retirement, health and wellbeing, financial matters, careers and education will be published in a magazine called EXPAND, which will be available for all NZRPA members in 2020.
The research proves that players who start to prepare for their transition early have a more positive experience of being career and life ready after professional rugby. This is why the NZRPA, through the Personal Development Programme (a joint programme with NZR), is driving education to assist players to explore, navigate and prepare for this process earlier.
We know that retiring players can face issues with their identity once their professional rugby career has ended. To help counter this, a young player education programme, which runs alongside the Personal Development Programme, has been established. One goal of this programme is to help players to understand that the game is not who they are and should not define them. Rugby is not their identity – they are also a daughter/son/sister/brother/student/worker – the game is a plan B while life is plan A.
By educating players early that they need to have balance in life, it will help them to become career and life ready. That balance can come from taking part in a variety of work experience, study and activities outside of rugby.
NZRPA Rugby Club Manager Mark Ranby said, "We want as many players, past and present, to know about us, so that members can come to us whenever they need us and realise that if they need help, support or just want to chat about some ideas, we are a great place to start.
"It is also important for players to understand that if they are facing challenges, they are not alone. Many other players have had similar experiences, so we can support them through those times. We can also help make their transition more positive by sharing the knowledge that we have gained from our other members and through our research."
As an NZPRA member (a professional NZ rugby player) you have access to the NZRPA for support, advice, networking and camaraderie for life. Phone 0800 PLAYER or email contact@nzrpa.co.nz.
If you would like to be added to the NZRPA Rugby Club database, please contact mark.ranby@nzrpa.co.nz
Introducing the NZRPA Rugby Club Team:
Mark Ranby – NZRPA Rugby Club Manager
Email: mark.ranby@nzrpa.co.nz
Phone: 021174 2777
Mark Ranby is a former Manawatu, Waikato, Chiefs, Hurricanes and All Blacks player, who has also completed an English degree at Massey University. He played in Japan prior to going to Cambridge University in England where he studied theology. Upon his return to New Zealand, he taught in high schools and has also spent over a decade as a Personal Development Manager for Canterbury, the Crusaders and the Highlanders.
Fa'amalua (Malua) Tipi – Player Relationship Manager
Email: malua.tipi@nzrpa.co.nz
Phone: 0274949286
Fa'amalua (Malua) Tipi played for Manu Samoa and North Harbour and is now the Personal Development Manager for North Harbour. He is also a lecturer at the University of Auckland's Faculty of Education and is the board chairperson for The Fono. Malua is currently researching male Pasifika undergraduates in university studies for his PhD. He has also been involved in research projects regarding equality, equity and pathways for Pasifika sports athletes.
Fiona Brading – Player Relationship Manager (Career Specialist)
Email: fiona.brading@nzrpa.co.nz
Phone: 021 2368381
Fiona Brading spent time working with youth and in the travel industry before studying sports science and psychology at the University of Auckland. After having travelled and worked in the recruitment industry in both the United Kingdom and New Zealand, she furthered her studies in career development at AUT before setting up her own career coaching practice. She is also a former North Harbour Personal Development Manager.
Photo caption: Malua Tipi, Fiona Brading and Mark Ranby