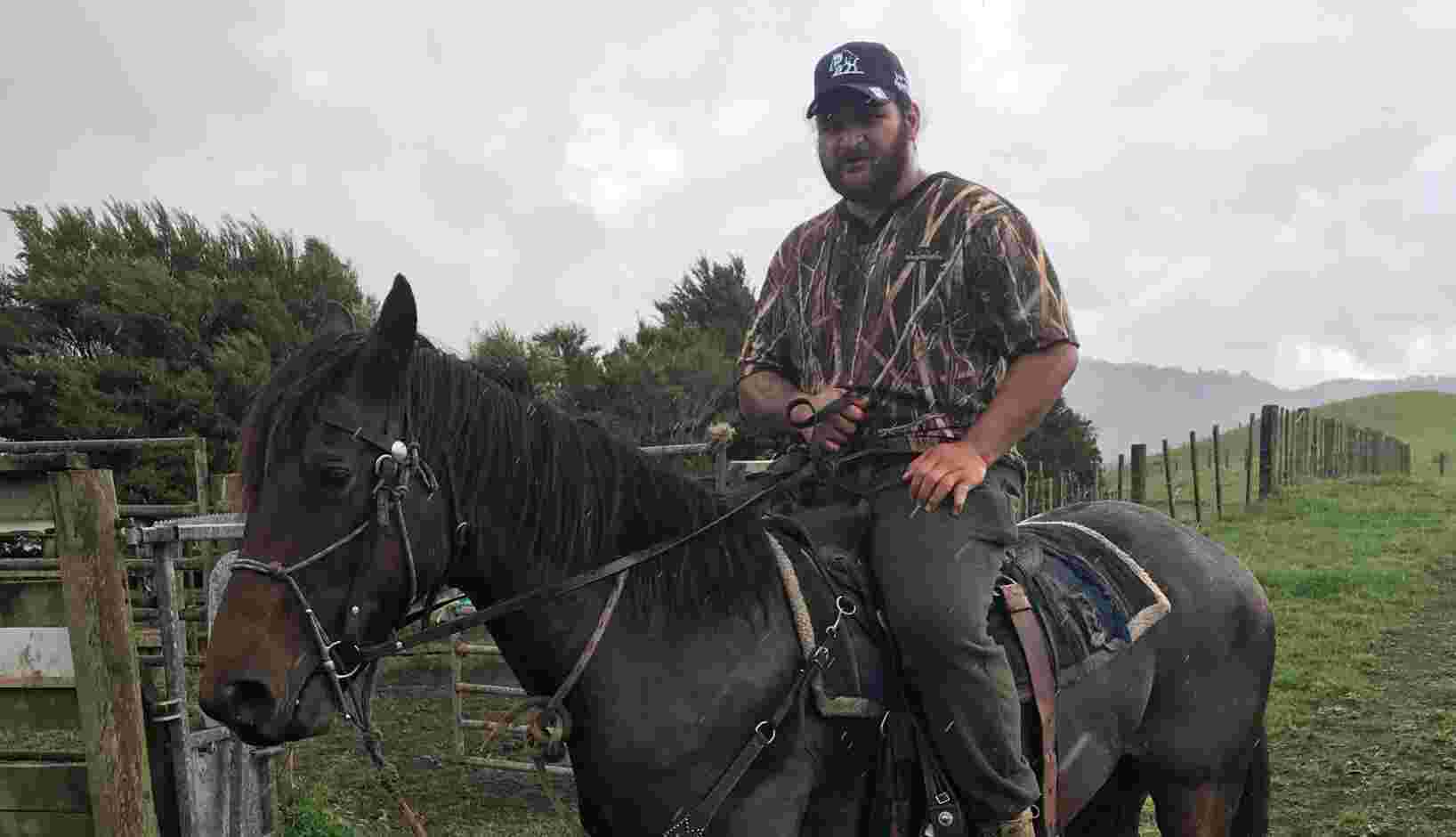 One of the real characters of New Zealand rugby is set to return to our TV screens, but this time he won't have his rugby boots on. For his new show, former All Blacks, Hurricanes, Blues and Wellington Lions player, Piri Weepu will replace his rugby boots with tramping boots, a rifle, a knife and a fishing rod. In typical Piri style, you can be assured the popular halfback will have you laughing with his new show Piri's Tiki Tour, which starts on Tuesday 1 May at 8.30pm on Maori Television.
During the show, Piri travels around Aotearoa trying to 'catch a feed', while showing off some stunning landscape, revealing some good hunting and fishing spots, and talking to some hearty local characters. Throughout the show, he also delivers some more useful tips on hunting and gathering kai from the land and sea, and he also openly admits to sharing some unintentional tips on what not to do!
The 34-year-old father of four said, "Making this show has been awesome. Travelling around and exploring new parts of the country that I haven't seen has been mean.
"I knew my rugby career was nearing the end, so I started thinking about what I should do. I knew I wanted to go overseas, but after rugby I was a little bit unsure what avenue to pursue, so I was rapt when this opportunity came up."
The seed for the show was planted before Piri headed offshore. "Prior to leaving I had a chat to a mate, Bailey Mackey who owns Pango Productions, about doing a show but then the chance to play overseas came up so off I went. When I returned Bailey asked if I was still keen, which I was, and we put the wheels in motion," Weepu said.
Filming of the 10-episode series started in late 2017 and finished in March 2018.
"I learned how to fly fish properly, which is harder than it looks. It is beautiful to watch, and I was in awe of them. It has taken me 18 months to finally crack it and I am still not an expert!"
There was plenty of fun during filming, which became a family affair with Piri's brother, Billy, working as the cameraman. "My brother was constantly teasing me about my fat arse. I kept giving him stick that he is obsessed with my rear end. I might become the Kim Kardashian of hunting!" Piri laughed.
"I really enjoyed the serenity of New Zealand, but we did break it frequently by given each other s**t and laughing. As most of the hunters and fishing people will know, gathering food is not always going to go in your favour, so we were pretty fortunate to have a good run.
"It was cool meeting people you would not normally meet, who were selfless and getting food for others in their community through hunting, fishing and diving.
"We had some pretty good dives especially at the Chatham Islands and Kaitaia. You could just dive in your undies it was so warm, then you get to Wellington and there is a big temperature difference with plenty of shrinkage!
"When I was pig hunting in Kaitaia, the two boys that hosted us would always take their niece and nephew with them and they have their own knives and dogs and are super keen. They were right into gutting the pigs and showing us a thing or two and showed me up just quietly."
Piri is hoping that the show will go down well, so is calling for the rugby family to support it by watching it. "I enjoyed the filming so much that I am keen to do a second season, so hope the ratings are good," he said.
He also has another plan in place and is looking to start his building apprenticeship shortly, having completed his overseas rugby jaunt.
Piri says there were plenty of learnings during his time overseas. After being part of the 2011 Rugby World Cup-winning side, he had stints at London Welsh and Wasps. He then headed to France where he played for Oyonnax, Saint Sulpice and Narbonne, and is the first to say things didn't go quite as smoothly as he anticipated. "When looking at playing overseas, my best bit of advice would be to find a team that is well managed and really looks after its players.
"My driver to play overseas was to experience other competitions, which I did, and what I learned from that is that there can be a lot more politics in rugby than we are used to in New Zealand, but it just depends on the structure of the club.
"I really enjoyed the laid-back lifestyle in France and that was good to experience."
The boy from Wainuiomata returned to New Zealand and played for Heartland Championship side Wairarapa-Bush which he said was great. "I fell in love with rugby again, which I had fallen out of while I was overseas. Every training was like a mini reunion of the boys and we had a lot of fun."
Weepu, who recently lost his dad, is still involved in rugby and is currently part of the coaching team for Petone. and is also looking forward to playing a part in the Wairarapa-Bush coaching team. However, he is adamant that he won't be playing and will stick to the whistle instead.
Piri's Tiki Tour starts on Tuesday 1 May at 8.30pm on Maori Television and runs every week for 10 weeks.
Twitter: @piriweepu
Instagram: piriweepu9