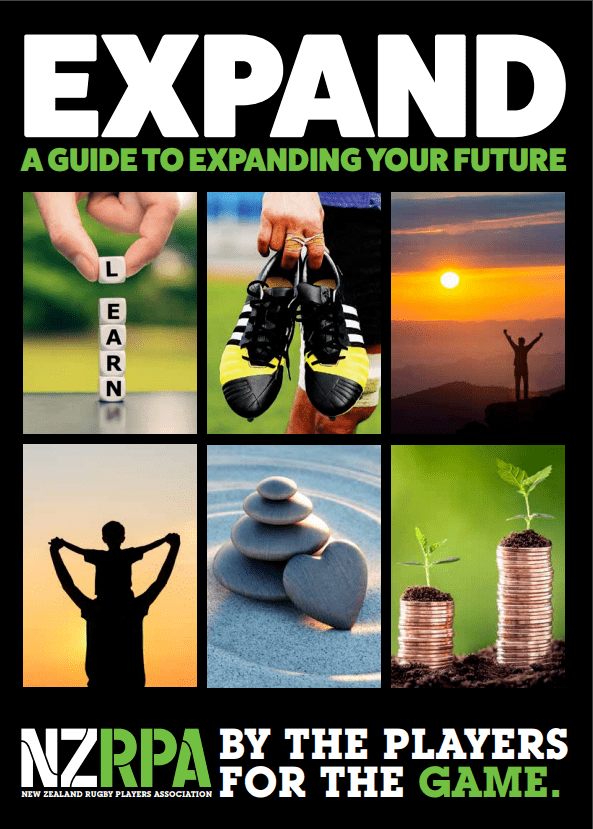 Players encouraged to EXPAND their horizons with new transition resource
The New Zealand Rugby Players' Association has released its latest educational tool for players, a magazine called EXPAND.
EXPAND is a resource for players, their families and their support networks. It provides a comprehensive overview of what players need to think about as their professional rugby career progresses from playing in New Zealand, potentially to moving overseas and, ultimately, as they move beyond their playing days into their next career and beyond.
NZRPA President and former Rugby World Cup-winning All Blacks captain David Kirk said, "It is important for players to expand their mind to focus on their personal growth and development. We want them to have the courage to explore different opportunities, which will help create a positive foundation to enjoy a successful life and career both during and beyond their playing days." The NZRPA acknowledges that being a professional rugby player is a unique role. There are different challenges and opportunities players need to be prepared for, some exciting and some daunting, and EXPAND provides strategies to help navigate them. EXPAND is broken down into seven sections, containing plenty of useful tips and information to assist players during their rugby-playing days and, importantly, as they look to hang up the boots and move into the next phase of their life.
NZRPA board member Sam Whitelock said, "We believe players need to start working on life after rugby as soon as they enter the professional rugby environment, while they have a strong support network available and access to great opportunities.
"Transitioning from one career to the next is something every player is going to experience, so our goal is to provide education and tools to help support that change to be as positive as it can be."
Fellow NZRPA board member Sarah Hirini believes EXPAND Magazine is valuable for players at every stage.
"EXPAND is a comprehensive resource that has been designed in a format that players can work their way through. It is filled with relevant information, which players will find useful during the different stages they go through on their personal journey," said the Black Ferns Sevens captain.
A former player, who knows first-hand what players experience having played for the All Blacks, two Super Rugby teams, four Provincial Unions, and two French clubs is NZRPA Player Services Manager Kevin Senio.
Senio, who has been part of the team working on EXPAND, said, "We hope that EXPAND inspires and encourages players to expand their horizons off the field. Having played in France for seven years, raising a family then transitioning home, I know the extensive range of topics covered are extremely useful, not only in a rugby environment but in everyday life too."
The NZPRA would like to thank members who have shared their personal experiences, information and photos to help produce EXPAND. They would also like to thank the specialists who have provided information for the magazine. EXPAND is available from the information centre on the NZRPA website – www.nzrpa.co.nz/info-centre – and from all Personal Development Managers and Accredited Agents.

LINKS: EXPAND MAGAZINE:
EXPAND – Whole magazine
www.nzrpa.co.nz/pdf/EXPAND-MAGAZINE-BY-NZRPA.pdf

Sections:
Introduction www.nzrpa.co.nz/pdf/Expand-Intro.pdf
EXPAND – Expanding your Horizons section
www.nzrpa.co.nz/pdf/Expanding-your-Horizons-LR.pdf
EXPAND – Beyond the Playing Days section
www.nzrpa.co.nz/pdf/Beyond-the-Playing-Days-LR.pdf
EXPAND – Careers & Education section
www.nzrpa.co.nz/pdf/Careers-Education-LR.pdf
EXPAND – Finance & Business section
www.nzrpa.co.nz/pdf/Finance-Business-LR.pdf
EXPAND – Health & Wellbeing section
www.nzrpa.co.nz/pdf/Health-Well-Being-LR.pdf
EXPAND – Relationships section
www.nzrpa.co.nz/pdf/Relationships-LR.pdf
EXPAND – Playing Overseas section
www.nzrpa.co.nz/pdf/Playing-Overseas-LR.pdf