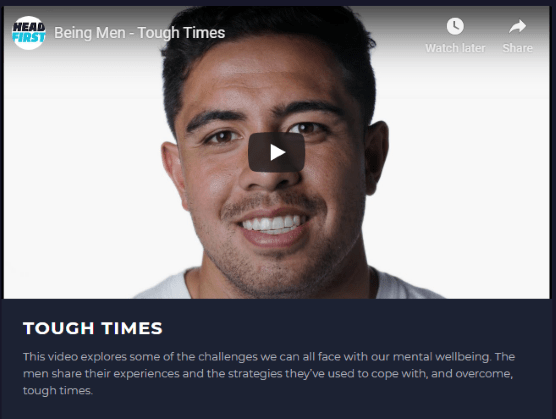 Players share openly in Being Men documentaries
New Zealand Rugby's HeadFirst (mental health and wellbeing) in conjunction with Te Hurihanga (healthy relationships) have made four short documentary films called Being Men. The project is an insight into how men, both in rugby and in the wider community, view aspects of life such as wellbeing, love and relationships. It also asks questions about what it means be a man.
The clips feature many NZRPA members including Kurt Baker, Du'Plessis Kirifi , Anton Lienert-Brown, Nehe Milner-Skudder, Ardie Savea, Angus Ta'avao, Tiaan Falcon and Mark Ranby. These men show incredible vulnerability as they talk about sensitive issues, challenge gender stereotypes and reflect on the environments and relationships that have shaped them.

All Black and Chiefs player Anton Lienert-Brown said of the experience: "I just think that the more we can talk honestly as men, the better it is going to be for us. I'm passionate about mental health through my personal struggles and I want to help people by sharing my experiences, which will hopefully encourage others to reach out and get help because it really does make a difference."
Dr Nathan Price the Education and Wellbeing Manager for NZR said, "Hearing men talking so authentically about their experiences and the challenges they've faced is powerful. We're hoping these videos will help normalise talking about topics like mental health and relationships, not just for men but for everyone. We're excited about the positive impact these clips can have in rugby environments.
"This has been a pilot project with a particular focus on encouraging men to talk, but the content is relevant to not only men. We will be looking to more diversity in our next series if these resonate with people."
The full series can be viewed at www.headfirst.co.nz/being-men
If you would like some support and would like to chat to someone, you can:
· Call or text 1737 to reach a trained counsellor 24 hours a day
· Go to your doctor, your agent, your Personal Development Manager (PDM), or
· Contact Instep on 0800 284 678 or through your PDM. Players who are on NZR contracts receive free support via Instep, who arrange for you to see a counsellor, psychologist or a provider relevant to your particular needs.
· Call 0800 PLAYER
There is also plenty of useful information and help available at www.headfirst.co.nz.