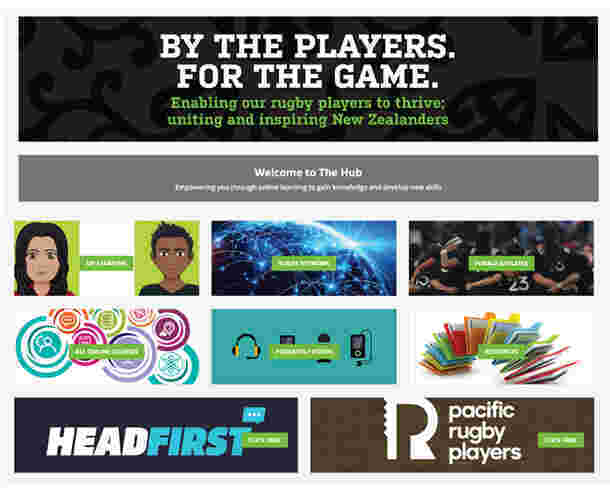 The New Zealand Rugby Players' Association has launched its new, free online education platform called THE HUB, which is available for current or retired high-performance players.
The special learning tool allows players to tailor-make their own personal development by selecting content that interests them and working through it at their own pace. It can be accessed from anywhere in the world at any time and users can pause what they are doing then pick up where they left off when it suits them.
A cross section of player's past and present representing all levels of high-performance rugby were used to test THE HUB and provide feedback on the new self-education tool. One of those players was former NZRPA board member Conrad Smith, who works at International Rugby Players.
"Taking the driving seat of your own future as you prepare for your next career after rugby can help provide a more meaningful experience," said Conrad.
"It is great to see New Zealand leading the way in personal development, and this new online learning platform is another important tool allowing players to engage in their own development. I have used the site and think it is a great resource for players at any stage of their journey."
The site offers are a variety of modules under five main categories. The wellbeing category covers resilience, mental health, relationships, culture, values and beliefs, and Te Whare Tapa Whā. In the career and education section, information is provided on making career choices after rugby. Budgeting, investment and increasing your financial understanding all sit under the finance section while modules on goal setting, communication, time management and delivering presentations feature in the personal skills section. In the professional rugby section, there is information on player support services, agents, and an induction into and what to expect of the professional rugby environment.
THE HUB also features special sections on Te Ao Māori, HeadFirst and The Rugby Network (for retired and overseas players), as well as tailored information for Pasifika players and female athletes.
The educational material on THE HUB is made up of a combination of short interactive e-learning modules, videos, podcasts and brochures. New content will be regularly added to ensure the platform remains current and relevant to its users.
Auckland Storm player and Black Fern Charmaine McMenamin, who features in a video on THE HUB talking about doing her electrical apprenticeship, said, "It is an awesome learning resource. We have never had anything like this before and it is another tool to help people access information they might not even know about."
In conjunction with the launch of THE HUB, the NZRPA has also gone live with their new website – www.nzrpa.co.nz – which features a special 'Player Zone'. The zone provides information relevant to players including details of the support available to them. There is also a dedicated business directory where players can list a business they own or work for so other players can support them by using their services or businesses. The site also features recommendations on podcasts and books that players have found useful.
Under the 'Our People' section of the new website is a photo gallery of NZRPA Board members and Accredited Agents. The site is also home to a library of resources produced by the NZRPA for players and the public. These include the PLAYERS OWN HANDBOOK for people entering the professional rugby environment and EXPAND magazine, which focuses on helping players to transition into their next career after rugby.
The website features a strong Māori design, which was created by stalwart of the game and former Māori All Black, Joseph Royal. The design represents the professional rugby pathway of both tāne and wāhine and the beliefs of the New Zealand Rugby Players' Association. The audio translation of the NZRPA extended by-line, which can be heard on the site, was voiced by former Counties Manukau player and current head of department for te reo Māori at Wesley College, Matiaha Martin.
A selection of current and retired players from all stages were consulted and provided valuable input as part of a focus group in the design phase of the website.
If you are an NZRPA member (past or present professional player) and you would like to have your business or place of work added to the business directory or you want to recommend any books or podcasts to other players, please contact kylie.devlin@nzrpa.co.nz.
How to use THE HUB
Step one: NZRPA will send you an email inviting you to access THE HUB. This email will contain a log-in link and password. If you have not received this email, contact the relevant person on the list below and they will help you get set up.
Step two: Log in and change your password to something you will remember.
Step three: Click on any of the dashboard boxes – there are eight to choose from.
Step four: To enrol in a course that interests you, just click on it and you'll be taken through to an introductory page. From there, hit the orange 'enrol' button and you're ready to start working though it at your own pace. You can stop work on these courses and come back to them at any time.
Step five: When you've completed the module, exit it and rate the course.
To gain access to THE HUB
If you have not received an email inviting you to access THE HUB and you are a current or past high performance player, please contact the following:
Current players – contact your team's Personal Development Manager (PDM)
Visit www.nzrpa.co.nz/our-people/personal-development-managers for a full list of PDMs
Overseas players – contact Fiona Brading fiona.brading@nzrpa.co.nz
Retired players – contact Mark Ranby mark.ranby@nzrpa.co.nz
All other enquiries thehub@nzrpa.co.nz
Tip: You can also reach THE HUB through the NZRPA website. Visit www.nzrpa.co.nz and click on The HUB in the top righthand corner and then use your log in.