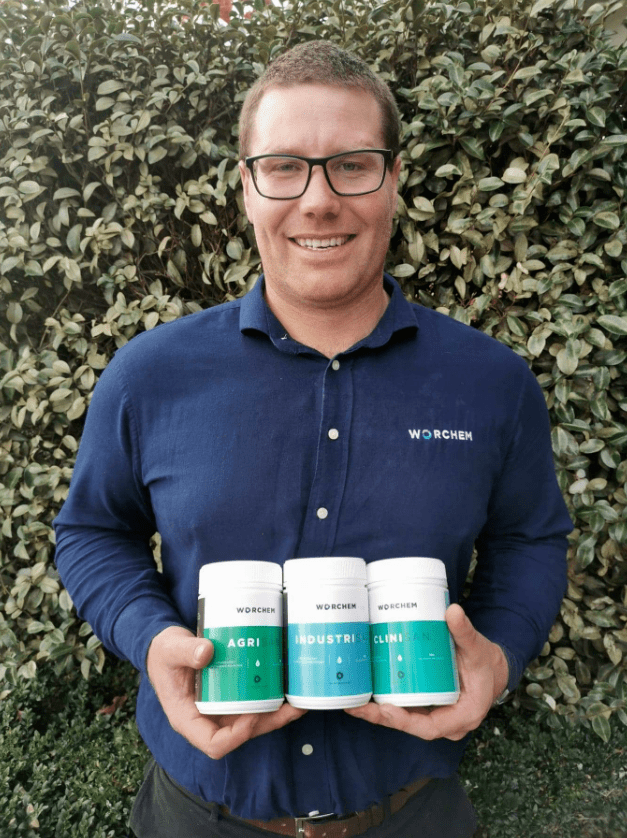 Props in business - Part one - Mitchell Graham
Getting into business is a steep learning curve for most people. In this two-part series, we talk candidly to former props Mitchell Graham and Wyatt Crockett, who, in true front-row form, tell it straight and share what they have learned from owning their own businesses. They tell us how they deal with the challenges being in business throws at them. The forwards share how they have utilised their time in rugby to help get into the business sector and what they learned in rugby that has helped them.
Props in business - Part one- Mitchell Graham
The inaugural Brisbane Global Tens in 2017 was a bittersweet tournament for Chiefs prop Mitchell Graham. The Chiefs claimed the title, but during the final Mitch broke his leg. On the day the final was played, many players at the tournament were dealing with the news of the passing of their talented former teammate and opponent, Sione Lauaki.
Following his injury, Mitch had four operations and three years of continuous rehab. During that time, the former Chiefs, Taranaki and Canterbury prop used his chemical engineering degree to start Worchem, a company that supplies hospitals, labs, clinics, farms and commercial businesses with chemical disinfectants and sanitisers. Since the global pandemic hit New Zealand shores, the company has grown exponentially. According to Mitch, "COVID-19 has made my business come to the forefront with the relevance it offers due to the sanitising products and disinfectant sprays.
"It has opened up my market because disinfection has become such an important part of life and business that it means everyone is looking for something. I've found the ease and practicality of my product has made it appealing to a lot of businesses as they navigate their way through their new sanitised norm.
"I have worked hard to provide a one-stop sanitising product source, which has been ideal for clients who have limited knowledge in this space."
Hand sanitiser refill packs, disinfectant tablets that dissolve in water and can then be used as a spray, mopping solutions and toilet cleaner have become his biggest sellers. "The dissolvable disinfectant tablet is one product that can be used on hard surfaces and, being a tablet, it doesn't take up much room, so it is great on costs and storage. It also illuminates spillage and is safer on all fronts including the environment, which is important."
Winding back the clock to 2009, Mitch attended the University of Canterbury where he studied chemical engineering full-time, graduating with a degree in 2013. During his last year at university, he played for Canterbury before moving to Taranaki for a job in 2014.
Having moved north, he returned to club rugby and was selected for Taranaki's ITM Cup team. His employer LogiCamms (formerly ITL Engineering) gave him time off to play. On the back of his form for Taranaki, Mitch earned a contract with the Chiefs, which saw him move home to Waikato.
Of his time as a professional player, the 29-year-old said, "I was always engaged in Personal Development in my rugby career as I saw it as massively important. My family had driven into me that rugby lasts a short time in the scheme of a lifetime, so I went into rugby with the plan that this won't last forever so learn as much as I can and prepare for what comes next."
It was that awareness that helped motivate Mitch to take more pro-active steps for life outside of rugby.
"I had six months recovery of hard rehab. When I finally returned to play, I was still in pain, so it was the start of a series of ongoing operations – and I am still in recovery. It was during that second period of time of rehabbing that a mate of mine I went to school with at St Peter's in Cambridge approached me to see if I would be interested in a pharmaceutical business venture. He knew my chemical background and thought I would be a great fit to partner with him in the Australasian market of disinfectant chemicals.
"I did four months of research on the product and how it was used overseas, where it was used and the markets it could fall into then I got into it three days after Clare and I got married.
"I had two pallets of product and started building a business around this product. I started working on the labels, websites, business structures and Ministry of Primary Industries' registrations while continuing with my rehab. That stage took about eight months and then I focused on networking, suppliers' containers and insurances.
"I knew I had gaps in my knowledge, so my family – who are all accountants – were really helpful. I also have a business mentor, and I went on a sales course as I had never sold anything. That was very valuable.
"We had good savings and low debt, and my wife has a good job, which was important to support us while we kick-started the business. We did a financial budget and planned costs, and I hit the market in November 2019. We run the business from home, which helps keep our overheads low.
Mitch knows what he's talking about when he says you have to be prepared for the unforeseeable and be able to react quickly to keep clients happy. He has seen growth in his business in an unforecasted capacity due to the virus. "I know COVID-19 has been devastating for many businesses, so we have been very lucky that it has grown the demand for our product through the roof."
The biggest thing that Mitch has missed about not playing rugby is the camaraderie the game offers. That void is being somewhat filled by his involvement in coaching Ohaupo Rugby Club's division one side.
When asked how rugby has helped him in business, Mitch readily replied: "You are in front of some very influential people while you are in rugby and you can learn so much from them, through conversations and asking people questions. There are experts in every part of business in rugby environments, such as sponsors, board members and marketing people, so you have a great opportunity to make something of yourself and tap into their knowledge."
Mitchell gave some other key pieces advice for other players who might be thinking about getting into business:
Everything takes longer than you think.
Your rugby career can be taken away from you at any stage, so be prepared for that.
Stepping out of rugby is a big mental change that takes time to adjust to.
It is quite a big step to decide to have your own business, so do your homework.
Always be engaged in Personal Development.
Do your market research.
Use every opportunity to connect with people.
You can't sell a secret, so let people know what you are doing.
Try to keep your overheads low.
Use your rugby network.
For any enquiries, contact Mitch on:
Email: mitchell@worchem.co.nz Phone: 027 635 2103 Website: www.worchem.co.nz
Coming soon: Part two with Wyatt Crockett