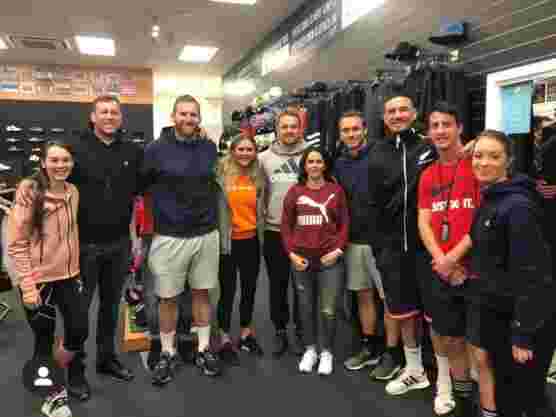 Props in business - Part two - Wyatt Crockett
Getting into business is a steep learning curve for most people. In the second part of the Props in Business series, we talk candidly to Wyatt Crockett, who tells it straight and shares what he has learned about owning a business. He informs us how the Crockett's deal with what business throws at them and shares how he has utilised his time in rugby to help get into the business sector. Wyatt highlights how what he learned in rugby has helped in business.
Props in business - Part two - Wyatt Crockett
Wyatt has some advice for other players when it comes to getting into business:
• Do your homework.
• Make sure you have people you trust around you.
• Have a business mentor – we all have gaps in our knowledge and we have areas for growth.
• Build a good team around you including your lawyer, accountant and mentor.
• Seek independent advice. You will get information from people you are buying from, in my case, the franchise group, but have it cross-checked independently. Different people have different motives so use independent advice and your own intuition.
• Ask yourself the hard questions – is this a business I can make a difference in, enjoy and grow, and is it going to be stimulating enough to keep me interested?
• It is better to put in the work early and get an understanding what you are getting into than figuring it out later. This is important when negotiating the purchase price and lease, which are important to get right.
• Pay attention to figures – numbers can be twisted when you are purchasing, so get good advice.
• If you are working with your partner have defined roles and clarity. Work to each other's strengths and weaknesses.
• Have enough cash reserves to cover a tough period.
• Have insurance cover if something happens to a key person in your business.

With 202 games to his name, he might be the highest capped Super Rugby player in history, but Wyatt Crockett is pretty frank when he says, "The first four or five years as a professional player I did not use my personal development time wisely. I didn't maximise that time and I really wish I had."
However, the former All Black, Crusader, Tasman and Canterbury forward also proudly claims, "In the last five years of my rugby career I was really interested in my personal development and tried different things, which included work experience. I ran my own insurance business for a few years while I was still playing and, on my days off, I would see my clients and did some more education.
"In my last year with the Crusaders – after my wife Jenna and I bought the Stirling Sports Nelson franchise – I used my personal development time to do work experience in my friend's Stirling Sports store in Rangiora.
"But I wish I had done some business study before I had kids. I should have done a degree or diploma. Once you have children, it chews up your spare time and while you're playing rugby you have time to do some study."
Wyatt didn't expect to be playing rugby for so long. "At the start of my career, I was grateful to get picked to play one game. I didn't expect to make it to Super Rugby level as I was just a battler, so I surprised myself."
But it wasn't always an easy run for the 71-test All Black. "Early on in my career as an All Black it was tough times on the fields with non-selection. Dealing with things like that is why you need a balanced life. You need stuff outside of rugby and you need to be able to focus on what is great in your life. The skills I learned around that have really helped with the ups and downs of running a business.
"You learn not to ride the rollercoaster so much – enjoy the good times but don't get too over the top about it. Try to keep pretty even-keeled as there are always good and bad times."
Outside of rugby, the Crocketts were also battling Jenna's kidney disease – reflux nephropathy. She was fortunate to get a live kidney transplant from a close friend in 2015. According to Wyatt, "It happened six weeks before the Rugby World Cup, so that was full on and a big challenge for the family. Jenna's kidney is doing well, and we have got an understanding of how it works, but with her reduced immunity she has to be careful especially with things like COVID-19."
Jenna's illness also helped the couple to focus on what they wanted from life after rugby. "During the second half of my career I was conscious of what I was going to do after rugby. I looked into a few things like commercial real estate and insurance to see if they were the right fit. We also wanted to move back to Nelson as my wife's family had always holidayed there.
"I was scrolling through businesses for sale on Trade Me and saw the Nelson Stirling Sports on there. We had friends in Rangiora who owned the store there and the sporting connection made sense. Sports was an industry I still wanted to be a part of and I thought I would be excited to get up each morning and go to work. It is a franchise modelled business with 61 stores in New Zealand with a strong focus on footwear, apparel and accessories and stocks global brands like Nike, adidas, Champion, Asics, Tommy Hilfiger, Converse and Vans so it was appealing. We purchased it in 2018 and kept the previous owners on managing it to help with the focus on goodwill.
"You do learn as you go. We were new to business and didn't have clearly defined roles, so that has been something we have brought in. Jenna and I complement each other as a team. Jenna is in charge of merchandising the store, organising the roster and communications for the day-to-day running of the store. I am in charge of controlling stock, finances and the back office. However, when it's busy it's all hands on deck on the shop floor. Being adaptable is important in a small business. Defined roles give clarity to ensure things run smoothly at work and home and there is no doubling up. It also helps to make sure the home and work life balance is right, and it limits the stuff you bring home. Being self-employed, you schedule your roster the way you want to, so it allows us to do school pick-ups and drop-offs and for a parent to be there after school. Jenna is great at reminding me to leave work at work and be present at home. Our goal is to have a second store at some stage when the timing is right.
"You need to keep working on your mental fitness and it is about balancing your life out – make sure you continue to watch the kids play sport, keep them connected, have a day off in the weekend to get away from it all and have family time."
The Crocketts have two young boys, Sonny and Emmett. Wyatt has found getting involved in kids' sports has helped them make new connections in the community, and he'll be coaching his youngest son's team this year. "I am just happy to help the kids out and enjoying watching the kids play."
Even when he was refereeing, the former All Black got plenty of advice from the sideline. "It's only under-tens! It was great that I was treated like every other referee though. New Zealanders love the game and have great minds, so I was cracking up laughing."
Crockett is open about utilising a lot of the skills he learned in rugby in his business. "Everything you learn in rugby is so transferable –work ethic, discipline, being results driven, motivation to succeed, time management (I was a shocker with my time management before rugby.) I lead by example so am always at work early as it sets a good example. We employ young people and they learn from me.
"Just like young players, you need to give the chance for staff to grow and learn, and you hope that creating a good working environment means they are excited about coming to work. It is important to make their time enjoyable. You want their experience while they work for you to be a positive one.
"When it comes to teamwork, I used what I learned in rugby. You need to understand your team and get a feel for how people work. You also need to celebrate your successes."
And there have been successes to celebrate – in their first year, they experienced the second highest growth for a New Zealand franchise. "It is cool to see your business succeed and grow, for things you implement to have effect and for individual touches come to light."
Many individual touches come from Jenna, who has an interior design background. "She has great skills at window dressing as does one of our staff. I am really average at that, so I stay out of merchandising the store and window dressing."
Wyatt's strength is his sporting knowledge and clients have benefited from that. When asked if being a high-profile rugby player helps draws the customers in, he jokes: "The older ladies want to talk rugby but the young ones have no idea of who I am.
"But I know what boots to offer customers and, having done a lot of training, I have a good understating of footwear. We get plenty of training so I have learned a fair bit about tights and bras, which I knew nothing about. You have got to have the right fit for your shape," he states knowledgeably.
Wyatt's biggest challenge has been getting his head around stock levels, something that has come to the fore recently. As with many businesses, the impact of COVID-19 has been brutal as the lockdown halted their business completely.
"With Jenna's low immunity she had already self-isolated for ten days prior to the lockdown. We were completely cut off from cashflow for at least a month, so the forecasting for sales was 90 per cent down. The stock came in and we had to pay for it out of our reserves as there was no cash flowing in. My advice would be to have cash reserves to cover a tough period.
"For our business, it has been about managing and understanding stock levels, learning the trends and making sure you're not stockpiling. 'What comes in has to go out' has never been more critical than now.
"Similar to being a rugby player, if you put in the prep and the hard work that pays off if you try and take short cuts and wing it without putting in the prep that is where you get hurt.
"In our industry, when it comes to buying merchandise, you can click a few buttons and end up with stock that won't move. We follow trends but are realistic about our area, which might not be like other faster fashion areas. After a few years, we are learning the staple things that people want and wear but no one could have foreseen the impact of COVID-19, so that is just something we will have to try to ride out. We managed to keep our five staff and that is our plan going forward.
"For the first three weeks of lockdown there was nothing happening, so we used that as a planning phase for what people were going to want. We focused on cutting back anything that wasn't a guaranteed seller. We tried to stick to the core range and high stock-turn merchandise.
"Once we were allowed to do essential click and collect, we focused on servicing our locals. It has been a challenge. We are grateful that locals have supported us, so at level three we did some big discounting to move stock. You have to try to adapt by changing your game plan. To repay the support we got from locals, we gave away five-dollar coffee vouchers with our phone sales, so we could support other local businesses."
The company's franchise support has given the couple good guidance on different areas. "You don't feel like you're out on your own. The world we live in is so fast and fashion is changing quickly. You make mistakes but having that group to call on has been great. They also have systems for tracking your business across the country, which is great to see how you are going just like on a rugby table, but there is flexibility to cater for your local clientele and make adjustments to suit your market."
Not one to put his eggs in one basket, Wyatt has returned to the insurance industry as the Nelson adviser for Maurice Trapp Group. "I put the insurance business on the back-burner temporarily when we moved from Christchurch. As the business is at a point that it is efficient and the staff are more capable, I've been able to step back and do a bit more with the insurance. COVID-19 proved it was good have a bit of diversity. It has definitely made us think about having another income stream.
"It was always part of the plan, but the timing was the right to revive the insurance side. I have learned business knowledge from the Stirling Sports store, which is transferable to my insurance work. A key component of that is covering the injury, illness or death of a key person to the business because if you take out that person, you need to have continuity. An income protection policy to cover the loss of a key person to the business is advisable.
"I've enjoyed being able to transfer what I learned from rugby into business, and we have loved the process of learning and owning our own business and all the growth that comes with it. I'd encourage all players to make the most of their time in rugby to soak up as much knowledge as they can and to do some work experience in areas that interest them while they are getting paid to make the most of the opportunities rugby offers."
There are Stirling Sport franchise opportunities available in Auckland, Tauranga, Rotorua, Taupo, New Plymouth, Wellington and Wanaka. If anyone is interested and would like to be connected to the appropriate person, please contact Mark Ranby on mark.ranby@nzrpa.co.nz for more information.
Facebook: Stirlingsportnelson
Instagram: Stirlingsportnelson
Address: 247 Trafalgar Street, Nelson
Phone number: 03 548 3974
Insurance email: Wyatt@mauricetrapp.com