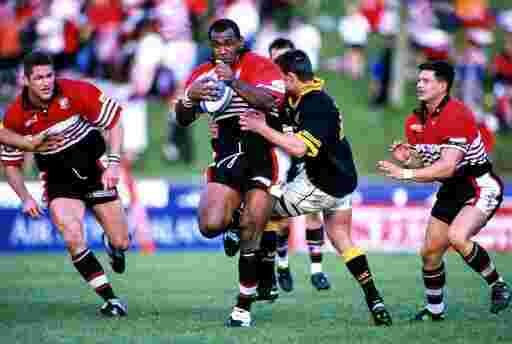 Rest in Love Joeli

In another shock to the rugby community, the NZRPA expresses their sadness at the passing of another rugby talent – All Black, Blues and Counties icon Joeli Vidiri. The 48-year-old try-scoring machine passed away last night in America.
Born in Fiji, Joeli came to New Zealand in 1994 when he was recruited to play for Pukekohe. He went on to play for 71 games for Counties, scoring 56 tries. He played 61 matches for the Blues, scoring 43 tries, and two tests for the All Blacks. He also played for the New Zealand Barbarians, New Zealand A, Auckland and Barbarian FC, and he represented Fiji in both 15s and Sevens.
Joeli was also part of the 1998 gold-medal-winning New Zealand Sevens side at the Commonwealth Games in Kuala Lumpur. Against the Bulls in 2000, he scored four tries to set the record for the most tries scored by a player in a Super Rugby game. This record was only broken last year by the late Sean Wainui.
Counties captain Errol Brain said, "This is a real shock. Joeli was an absolute icon of our province. He was a total threat with the ball in hand and an incredible try-scorer. Off the field, he was top value with a great sense of humour and a good man. He was a special part of Counties rugby and always will be. Our thoughts and prayers go out to Joe's family, kids and friends."
The proud Fijian's popularity reached such heights during his Super Rugby career that he even had his own song "Give Me Hope Joeli" sung to the tune of "Gimme Hope Jo'anna" by Eddie Grant.
Former Counties teammate, midfielder Tony Marsh said, "He was such a legend at creating something out of nothing. He was top class for us and could change the game in a second.
"He was one of the most underrated wings that played. We were so lucky to have both the double J's on the wings (Joeli and Jonah). He was a freak of nature and will be very sadly missed."

A give a little page has been started to bring Joeli home.
https://givealittle.co.nz/cause/supporting-the-safe-journey-home-of-the-late-joeli

Rest in love, Joeli