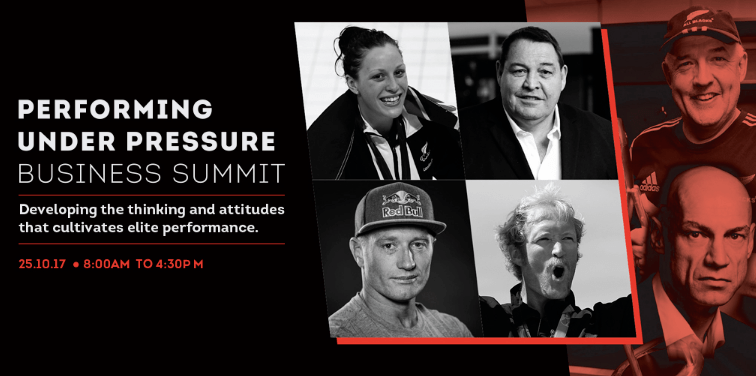 Performing under pressure is something that athletes and coaches know and understand extremely well, and it is those highly valuable skills obtained through sports that the business sector will be eagerly tapping into at the 2017 Performing Under Pressure Business Summit to be held in Auckland on 25 October.
The Performing Under Pressure panel will feature four iconic sportspeople:
Double Olympic gold medallist Eric Murray who, with teammate Hamish Bond, was part of the greatest winning streak in international rowing having been unbeaten over 69 races in eight years.
Back-to-back America's Cup winner Jimmy Spithill, who staged one of sporting's greatest comebacks to win the 2013 America's Cup for Oracle Team USA.
New Zealand's most successful Paralympian, swimmer Sophie Pascoe, who has won nine gold medals and six silver medals.
All Blacks coach Steve Hansen, who is one of the most successful coaches in the modern era.
The event will be facilitated by All Black mental skills coach Gilbert Enoka and forensic psychiatrist, Rhodes scholar and former New Zealand footballer Dr Ceri Evans, who has worked with many top sporting organisations including the All Blacks and Arsenal.
The outstanding panel and facilitators will all share in a raw, honest and compelling manner the experience of intense competition, setbacks, wins and ultimately what it takes to achieve outstanding success while competing against other high achievers.
Jimmy Spithill, who is looking forward to being on the panel and sharing his knowledge and experiences with the business sector, said, "As tough as it is to make mistakes or experience defeat, in a team environment it's one of the best ways to find out who you want next to you on the battlefield. Champions and champion teams use adversity as an opportunity to be candid, learn and come back stronger."
The Performing Under Pressure Business summit will be a day of workshopping through key issues and solutions for how the business sector can learn from sports. Discussions will centre around how to harness pressure to get results while dealing with challenges, problem solving, adapting and implementing change to alter outcomes in the quest to be the best in their industry, and how to perform well under the pressures of a highly competitive market place.
The event, which is presented by the Athletes Federation and the Auckland Chamber of Commerce, is in its second year, with last year's Business Summit having featured Richie McCaw, Dame Valerie Adams, Mahe Drysdale and Hamish Carter.
For more information or to book tickets visit www.performingunderpressure.nz Performing Under Pressure Business Summit Date: 25 October 2017 Time: 8.00am–4.30pm Venue: The Great Room, Langham Hotel, Auckland Tickets: $995.00 single; $6960 table of 8