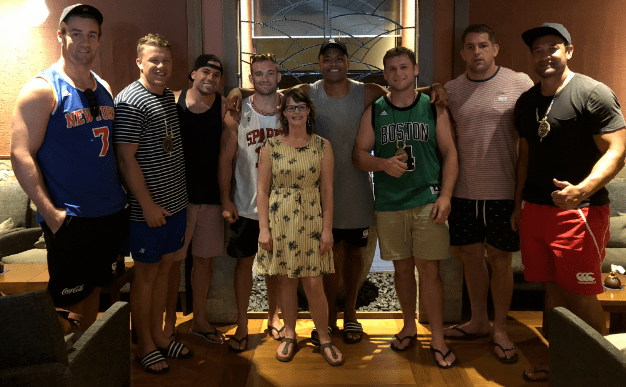 Given the large number of Kiwis playing rugby in Japan, the New Zealand Rugby Players' Association (NZRPA) has just sent one of their team, Fiona Brading, to visit the country. While in Japan, she spoke with players about the ongoing support they can get through the NZRPA, and also provided them with help and advice particularly around gaining a sense of direction and greater confidence about their careers after rugby.
According to Andy Ellis, who is currently playing for the Kobe Kobelco Steelers, the visit was hugely beneficial: 'From my point of view, Fiona's trip was invaluable. It is very forward thinking of NZRPA to let her come and connect with all of us overseas boys playing in Japan. Her energy, enthusiasm and experience were great, and it helped connect and engage us all, which I acknowledge can be a challenge at times.
'She used interesting insight from past players and a range of techniques to find what our passion outside rugby could be. It is so important to think about our futures, and this was a wee reminder that we can't play forever and we must think about life after rugby,' said the former All Black and Crusader.
To assist the approximately 270 New Zealand players scattered around the world playing rugby, the NZRPA has employed Fiona as Personal Development Manager for Transitioning, Overseas and Retired Players. Bringing her experience as a career change specialist, in this role Fiona can support this group of players and their families as they move off shore, back to New Zealand and into the next phases of their careers.
While in Japan, Fiona connected with 57 players from 15 different Japanese teams. She spent time In Tokyo and then went on to Hokkaido, where the players attended a training and competition camp at a time of the year that saw temperatures soar to a whopping 39° Celsius.
With life after rugby fast approaching for some players, many took up the opportunity to do career card sorts, where players go through process to help them identify their post-rugby interests and to give them career options to explore. This service is available to all players, current and past, through their Personal Development Managers at Super Rugby or Mitre 10 Cup level, or by contacting Fiona Brading directly through the NZRPA.
The main takeaway for the players who completed the card sorts was that they can now be proactive in planning to use some of their off-season time to organise relevant work experience opportunities and connect with people in jobs that interest them. To this end, the NZRPA is able to use their extensive network to help players engage in work experience placements.
During her time in Japan, Fiona was hosted by several of the players' families and appreciated their hospitality.
Head coach of Kobelco Steelers, New Zealander Dave Dillon said: 'All feedback from the players has been very positive. It is great to have someone like Fiona in the role to give players great confidence and options to run alongside and post rugby.'
Previously the NZRPA has sent staff to France and the UK to connect with players and they acknowledge that the international arena is a growing area for their members requiring support.
Any players wanting to connect with Fiona Brading for career advice or support through their post-rugby transition please contact her at fiona.brading@nzrpa.co.nz.
If you are a current player in New Zealand in need of any support, please contact 0800 PLAYER or your local Personal Development Manager.