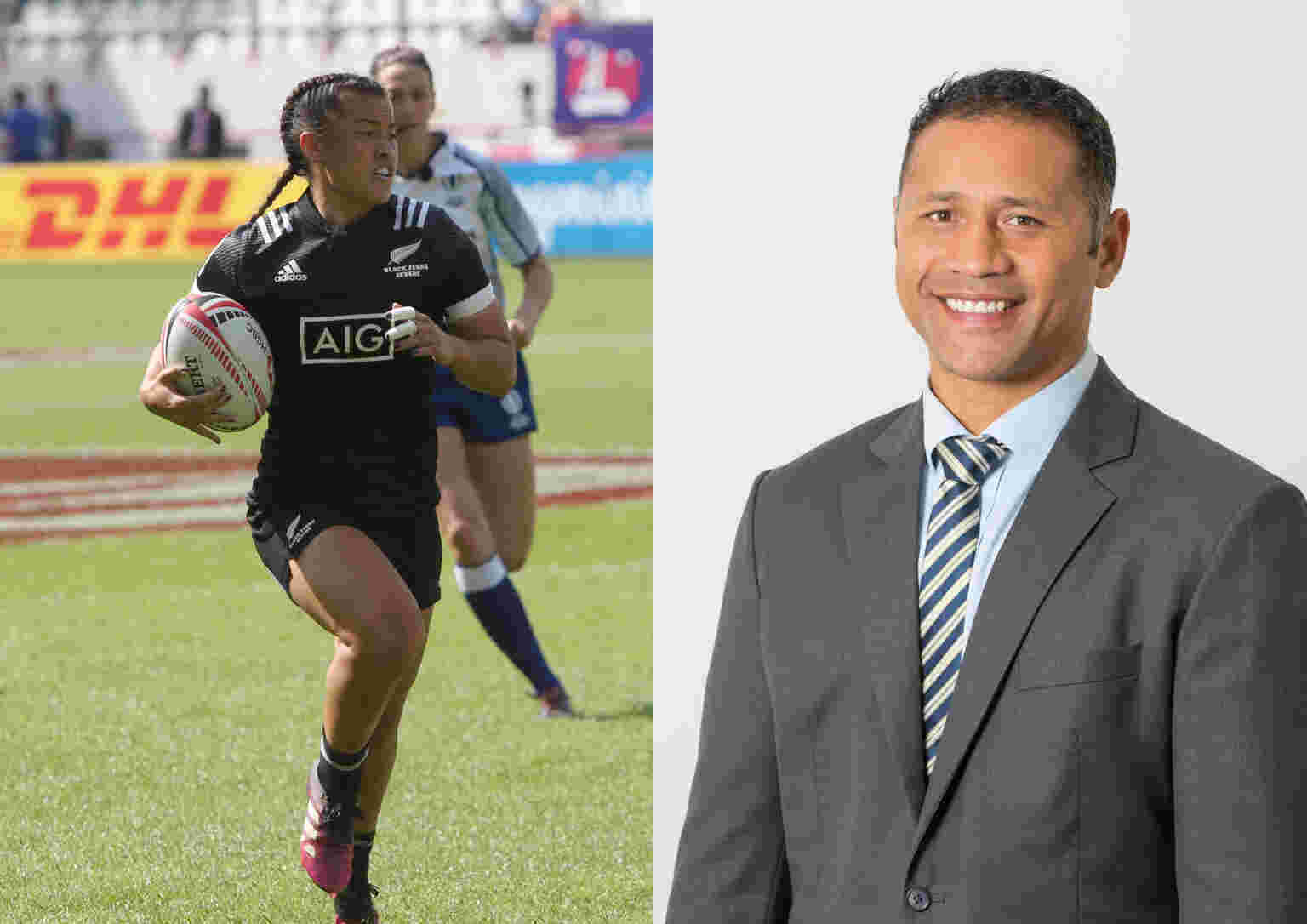 During their rugby career, players get used to spending time on the medical table, but what is it like to be on the other side of the medical table treating fellow players? What do former players learn from being the patient, which is useful for when they become the medical provider?
In this two-part series we talk to former All Blacks, surgeon Jeremy Stanley and physiotherapist Josh Kronfeld, Black Ferns Sevens player Theresa Fitzpatrick, who is working towards becoming a doctor, and Black Fern Aleisha-Nelson Pearl who is a sexual health nurse.
Jeremy Stanley showed great promise from an early age. At Auckland Grammar School, he was deputy head boy and captain of the first XV. While at high school, he also won the award for the top Pacific Island scholar in the country.
The father of three said, "Time management and team-work were the biggest things that I learned playing rugby that have helped me in my medical career."
The former Blues and Highlanders player started his medical studies while playing. "I was always under pressure training because I was doing my medical degree at the same time. I studied in between trainings and friends would cover and take notes for me. It got harder in fourth-year medicine as rugby turned professional. The ability to be able to manage my time, which I learned while playing rugby, helped me immensely. Also transferring the team-work aspect that is central to rugby has been useful. The hospital is a big team – administration staff, doctors, nurses, physiotherapists, healthcare assistants, cleaners to name a few – and just like on the field you get the best results if you work well in the team."
For the son of All Black Joe Stanley, family is always first, which is why Jeremy got into medicine. "I remembered the financial stress on my parents because they were young when they had us six kids. From a young age, I wanted to do something where I could look after my family. My GP seemed like he had a nice car and, at a young age, I thought he must have some money. I didn't want to worry about bills. I got that in my mind at primary school and that carried on. Then I realised that plenty of good came with the job. Two of my sisters work for me so I get to help them a little and we get to spend more time together which I really love. I like what I do, but I like more what it does for my family."
Jeremy is also quick to acknowledge that while financial security is fantastic, he knows that money doesn't make you happy. "I have realised that the most satisfying feel-good factors come from being a good dad, husband, brother and son, and you still have to connect with your mates and do things with them because that is where a lot of joy can come from. Don't get me wrong, being lucky enough to own a flash car is nice, but a day with your mates and family is where the true happiness comes from."
A former New Zealand Black Sox softball player and captain of the 2004 Samoan team at the World Softball Championship, Stanley retired from rugby in 2001 due to a spinal cord neck injury, which prevented him taking up scholarship opportunities at Oxford and Cambridge. "When I had to retire, I thought that I worked and trained quite hard, but it wasn't until I had to do my surgical exams that I realised that I could have pushed myself harder as an athlete. I was working over 100 hours a week in the hospital and was on call 72 hours in a row. I didn't actually realise what the mind is truly capable of.
"I studied for 18 months for two exams on two separate occasions. Every waking hour I was either studying for the exam or thinking of the exam. At the same time, I was working as a doctor full-time. I would have study groups and work and study every day until very late including every weekend from 7am till 10pm, I almost didn't see my kids for six months. My son was born three months before my exam, so I hardly saw him at all. I look back now and think if I had known how hard I could push myself mentally I could have applied this to my rugby and enhanced my performance which I regret now."
Stanley became interested in sports knee injuries when he tore the anterior cruciate ligament (ACL) in his right knee while playing for the Highlanders during the sixth year of his medical studies. His area of expertise has become very specialised – he only does sports knee injuries in private practice and he has a passion for working with ACL injuries. He loves being a surgeon but admits the most challenging part of being a doctor is when things don't go according to plan.
The 44-year-old works out of Unisports Sports Medicine's clinic in Auckland and he also does general orthopaedic paediatric trauma surgeries with a specialist interest in children's sports injuries at Auckland's Starship Children's Hospital. "I enjoy when the children bounce back and do well and write letters and make cards, that's awesome," Jeremy says.
"Unfortunately, some of the children who come to Starship are very unwell and some don't leave the hospital. That is really, really hard and something I will always struggle with. It doesn't get any easier. I am a parent too so I feel for those poor families. You can have such a range of highs and lows in a single day at Starship hospital."
When asked for the best bit of advice on looking after their body that he could give players, the knee surgeon says: "Don't take rehabilitation for granted and put more time into prevention of injuries. I had two ACL injuries so I experienced it all first-hand. Now we know more about prevention and a lot more about neuromuscular training and proprioception, which is learning to keep your knee in proper alignment. A lot of money has been spent on prevention and this is a path I would recommend players, coaches, trainers and even parents become more aware of."
When asked if he would recommend a career in medicine Jeremy says: "It is an awesome career. I only went down the surgical route because my rugby career ended early, so I was young enough to still do the training. I always thought I would be a GP because I didn't think I could do the ten years of surgical training, but when I had to retire, Graham Paterson, my Blues doctor, talked me into orthopaedics because it is more hands on and he thought I would love it. Pato was right. It wasn't all smooth sailing as I did fail my part one exam by one mark and had to re-sit it, but just like anything in life, you just have to keep persevering when you are trying to achieve goals."
Jeremy's career has taken him to different locations for work including Melbourne where he undertook two fellowships, one at the Royal Children's Hospital and the other at the OrthoSport Victoria's knee surgery clinic. He is now happily based in Auckland with his extremely supportive wife and kids.
Jeremy loves working with athletes and will be a team doctor for the match between the New Zealand Barbarian Legends team and the Pacific Legends, which is the curtain-raiser for the All Blacks v Tonga, at FMG Waikato Stadium at midday on Saturday 7 September. He is looking forward to reconnecting with many of his old mates as they raise awareness of diabetes, obesity and heart disease, especially amongst the Maori and Pasifika communities.
Rugby has given Jeremy many transferable skills for his career in medicine and they are skills that he likes to share with others. He believes that players need to realise that they'll learn many skills from being in a rugby team and many of those can be used in the outside world with great success.
Dual Black Fern Olympic silver medallist and Rugby World Cup champion Theresa Fitzpatrick started studying to become a doctor after she left Saint Cuthbert's College in Auckland in 2013. Her love of sciences, her desire to help people and having lost three of her four grandparents early in life combined to guide her towards becoming a doctor. She is also highly motivated to help improve health outcomes in her Pacific community. She has completed three years of her medical degree at the University of Auckland.
Theresa started playing for the Auckland Storm in her first year of medical school. She was training in the morning at 5.30am then going straight to university where she attended lectures and laboratory sessions all day. Then she'd go off to skills training after which it was back to studying.
The 24-year-old made it into the Black Ferns Sevens programme on an interim contract in 2016. At that time, she had a meeting with the University of Auckland who, in an unprecedented move, agreed to put her medical degree on hold to allow her to pursue her dream of making it to the Rio Olympics. The calculated risk paid off and she not only became an Olympian but also won a silver medal.
At the end of 2016, Theresa was offered a full Sevens contract, so she had another meeting with the university. There, they decided to her a hold her place at the School of Medicine until her rugby career was finished as they acknowledged that it would not be long-term. They also believed the skills from rugby and the life lessons she would learn meeting people from different cultures while on the World Sevens Series would add value to her career as a doctor. However, to keep her head in the medical world, it was agreed that Theresa would continuing doing a health science degree, then she will continue her medical degree when she retires from rugby. She is extremely grateful for the support and opportunities that the university has given her.
In 2017, Theresa earned a place in the Black Ferns World Cup team and added a World Cup title to her World Sevens Series titles, Olympic medal and Commonwealth Games gold medal. At the Rugby World Cup, the utility back got to shadow the Black Ferns medical guru, Dr Deb Robinson. The former All Blacks doctor helped to cement Theresa's motivation to become the Black Ferns or Black Ferns Sevens doctor when she completes her studies.
Mount Maunganui-based Theresa has just had surgery on her left knee after tearing her meniscus. She has had surgeries on both knees and has also damaged the AC joint in her shoulder. All of these injuries are experiences she believes will make her a better doctor. She does admit that she does ask a lot of questions of her medical support team and having a bit of medical knowledge has its good and bad points. "You understand what is going on but also you know the severity of it all, especially when you go into surgery. I know that it is going to be hard to be a doctor but I am still as committed as ever, and being surrounded by sports and athletes has given me a clear idea that I want to be a sports doctor."
Her advice to players wanting to get into medicine is that you have to a really want it. She says that the more interested and invested in it you are, the better the experience is. As with most things in life, finding your 'why' helps with your motivation.
Theresa knows she still has another four years of her medical degree to complete when she finally hangs up her professional boots. Becoming a doctor is a long process but she knows the rewards will be worth it. For now, she is focusing on her rehabbing and will use the experience to add to her knowledge bank when she gets on the other side of the medical table in a few years' time.